Sony QX10 and QX100 Smartphone Lenses Official
During Sony's press conference at IFA 2013 in Berlin, the company just made official its heavily-leaked QX10 and QX100 smartphone lenses. These lenses are a bit different than just your normal DSLR glass, as they come with NFC and WiFi built in to easily pair with your smartphone, which means it doesn't actually attach and line up with your camera module, but rather just simply clips onto your smartphone anywhere on the back.
The lens and your smartphone link up together using NFC by default, but if your phone doesn't have NFC, you can sync up using your home WiFi network. That's obviously severely limited, though, so if you don't have NFC, it'll be a bit difficult to sync up the two while on the road.
The lens come with Carl Zeiss glass with a 2/3-inch, 18-megapixel sensor on the QX10, with the QX100 sporting a 1-inch 20MP sensor, which is the same sensor that's in the RX100 Mark II. The QX100 also has has an f/1.8-f/4.9 aperture, while the QX10 has a more modest f/3.3-f/5.9 range. The lenses also have up to a 3.4x zoom, something that built-in phone cameras don't have.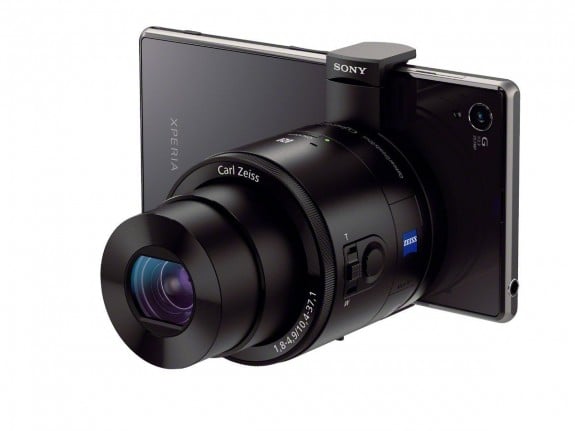 The lenses attach to your smartphone using an accompanying clip, and it'll work will pretty much any Android phone or iPhone. Technically, though, you don't need to attach it to the phone if you don't want to, since it communicates wirelessly.
Read: Sony DSC-RX100M II Review (Editors' Choice)
The lenses are available on Amazon right now, with pre-orders live and ready. The QX10 costs $248, while the QX100 costs $498. Both come in black, while the QX10 also comes in a white/gold combination. There's also an SD card slot tucked in to provide extra storage.
The lenses are certainly much cheaper than some of mirrorless and DLSR cameras out on the market right, so the QX series could prove to be a viable, budget alternative for folks who still want to take good photos. Plus, we can't help but wonder if Sony is attempting to take a jab at Samsung's line of Android-powered cameras, like the Galaxy Camera and the newer Galaxy NX, which is priced at a whopping $1,600.
Of course, we'll have to wait and see what kind of photos that the QX lenses are capable of taking, but we're guessing that smartphone users will get much better results than the built-in sensor on their phone, although some devices can take some pretty good photos without outside help.