Sony Shows Off PlayStation 4 User Interface (Video)
A new video from Sony shows gamers what they can expect from the PlayStation 4 user interface when the console comes to stores sometime later this year.
The video specifically highlights the social features of the PlayStation 4, showing the list of updates from friends that users will see when they turn on the console. Those updates can include progress they made in games, trophies they earned, videos they shared or even games they purchased.
Read: Sony Shows Off 15 Exclusive PlayStation 4 Games
Sony will link the PlayStation 4 to existing social networks like Facebook to make it easier for gamers who want to connect with their friends through the console. Of course, gamers can send messages to their friends while in the middle of a game. Just double press of the PlayStation button on the controller will switch from a game to read a message, and another double press will take them back to the game.
Perhaps more interesting is how the PlayStation 4 will handle game downloads. When a friend asks the main character in the video to play Killzone: Shadow Fall he buys the game from the PlayStation Network, and the store asks what mode of the game it should download first.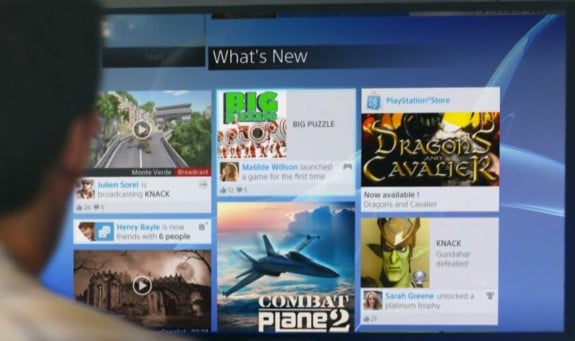 Gamers can choose to download the multiplayer mode first to get into the game with their friends more quickly, or they can download the single-player mode first. It's not clear if that option is available for every game, or if only certain games will have it, however. Many games in the next generation such as The Division and Need For Speed: Rivals will combine single and multiplayer modes, so the option likely won't exist for all games.
As Sony announced before, gamers can start playing games as they download to the console, making it easier to jump into games with friends.
The video also gives a short glimpse at the upcoming PlayStation App that will let gamers interact with their friends from their iPhone or Android phone (the ad of course shows it on a Sony Xperia Z). Gamers can chat with their friends, watch videos and buy games that will download on their PlayStation 4 through the companion app.