Sony Tablet S To Hit U.S. Stores September 16th for $499
Sony announced that the Wi-Fi only models of the Sony Tablet S will land on U.S. shores September 16th, ahead of the European launch and the availability of the AT&T version in November. The Sony Tablet S costs $499 for the 16GB version and $599 for the 32GB version, which is par for the course with 10-inch tablets, and is available now for pre-order from Sony's website.
The 9.4-inch tablet has some standout features, such as an asymmetrical design, a non-standard display size (1280 x 768 res), an IR port, and compatibility with PlayStation PSX games. But like every other Honeycomb tablet, it sports an Nvidia Tegra chip (1-GHz) and 1GB of RAM, plus front and back facing cameras.
Reviews are mixed, placing the Tablet S above the true Android Honeycomb flops but not quite at the top of the mountain with the Galaxy Tab or the iPad. And so far the full breath of available apps and games isn't clear. So if you've been waiting until the tablet actually ships for more first-hand accounts, you won't have much longer.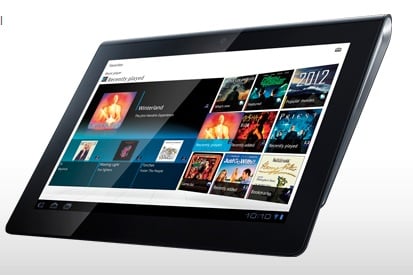 The Sony Tablet S will be available both on Sony's store and via big box retailers. Are you going to pre-order based on the reviews or hang back until the early adopters have had a go?

As an Amazon Associate I earn from qualifying purchases.