Sony Teases PlayStation 4 Day Before Xbox Reveal
A day before the reveal of the new Xbox, Sony released a teaser for the new PlayStation 4 console, showing an out-of-focus black box with vents.
The short 39-second video shows an out-of-focus PlayStation 4 that look more like a square than the rectangular PlayStation 3. As the blurry black box gets closer to the camera the video shows images of various vents in the new console and some angular lines that may hold the disc tray.
It ends by quickly flashing all of the close-up shots of the console before fading to black. At the end of the video Sony announces the date and time of its E3 press conference. Sony will full unveil the PlayStation 4 on June 10 at 6 p.m. PT/9 p.m. ET in Los Angeles, hours after Microsoft's E3 press conference.
The video is the first glimpse of the new console from Sony. Sony infamously chose to only show off the controller of the PlayStation 4 at its announcement event. At E3 it will finaly show the black plastic box that will hold its PC-like parts.
Like the initial announcement event Sony will livestream its E3 press conference online so any gamer who wants to can see what Sony has planned for the future of the PlayStation brand. Sony will presumably announce the release date and price for the PlayStation 4 at E3. Currently the console has no price, and only a "holiday 2013" release window.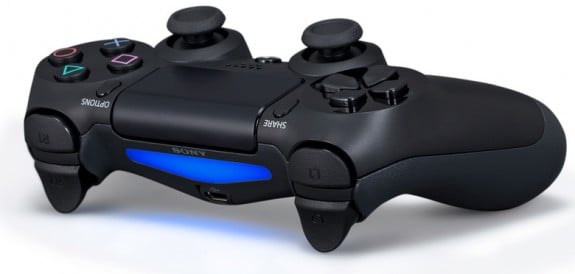 Sony announced a number of new games for the PlayStation 4 at the announcement, but will likely give more details on them at E3. The company may also give more details on its mobile companion apps at the press conference as well.
When the PlayStation 4 does come to stores later this year it will compete with the next Xbox that Microsoft will reveal at its Redmond campus tomorrow. Microsoft will likely show off its new console at the event instead of teasing gamers with hints at the new box. Microsoft will then show off its launch lineup of games for the new Xbox at its E3 pres conference.