Sony to Debut New SmartWatch Next Week?
No stranger to the smartwatch market, Sony Mobile Communications may be debuting a new Sony SmartWatch next week at the Mobile Asia Expo in China. The Android Xperia phone-maker has been sending hints about a potential watch related announcement on Twitter, with hashtags such as #itstime.
The company also posted an infographic on the social sharing site sating that one in three smartphone users "want smart wrist wear," highlighting in a separate tweet that it had launched its first smartwatch as early as 2007.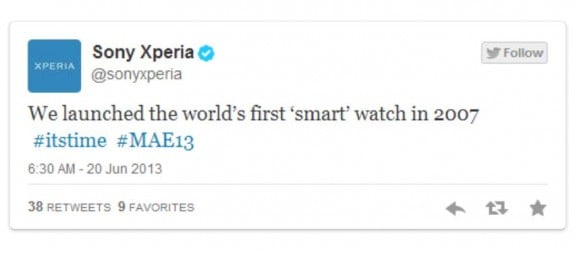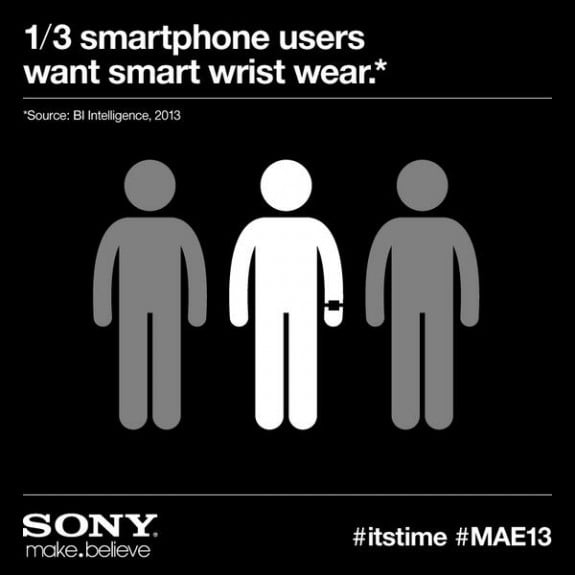 Other tech giants that are rumored to be entering the smartwatch category in the future include LG, Samsung, Apple, and even Google. As smartphone penetration is reaching a high level, smartphone-makers are trying to diversify their product offerings and find new markets for growth. Wearable computing is one such market.
For its part, Android OS-maker Google is exploring various form factors with wearable computing. The most talked about form factor to date from Google is the Google Glass project, which brings always available computing technology to your eyes in the form of the company's smart eyeglasses.
And while the technology is converging to enable better smartwatches, there are still challenges for manufacturers. Flexible displays, bendable batteries, curved glass, and better CPUs for power management are all beginning to come together to help shape the wearable computing market. The challenge, however, is that these devices need to still feel natural. In the case of the smartwatch, the device also would need a long battery life as owners of traditional watches who may want to migrate to the new smarter edition may be turned off if they have to recharge every night.
And while the aim of smartwatches may be to deliver more information, designers would still need to keep things simple.

As an Amazon Associate I earn from qualifying purchases.