Sony Trades on Nostalgia in Xperia Z Ad
Sony's new ad for its upcoming Xperia Z uses the nostalgia of older Sony devices to market the new smartphone.
The ad starts in the 1950s with people on the street gathered around a store window watching color TV on a Sony Trinitron TV. There's a sense of wonder among the people standing in the street as they watch a U.S. shuttle launch on the small color TV.
Sony then cuts to the 1980s where two girls skate on the beach listening to music on a Walkman. The Walkman brand isn't as important as it once was, but at the time it was a status symbol, and one of the best cassette players on the market.
https://www.youtube.com/watch?v=9Pp7nDmb5K4
Still in the 1980s, the ad shows a Sony camcorder shooting video of the fall of the Berlin Wall.
Another cut jumps to the 1990s with a few guys playing what looks like Ridge Racer on the original PlayStation. It even shows the PlayStation controller before Sony added the two analog sticks.
Each scene is also a hint at features of the Xperia Z: the 1080p display, music player, HDR video and PlayStation Mobile.
Finally, the ad jumps to modern-day during what looks like a Holi (Festival of Colors) celebration in India. A couple visiting the city stop in the middle of the street and the man pulls the Xperia Z out of his pocket to take photos and video with his Sony Xperia Z.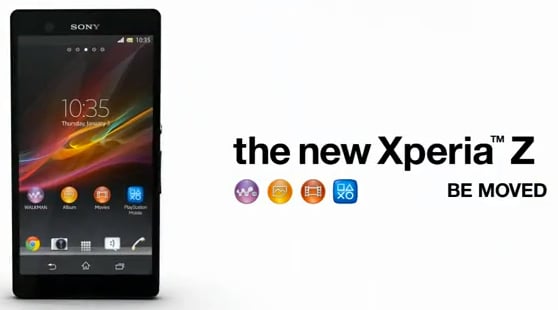 The YouTube video also include a link to footage from the Xperia Z such as the video below.
At the end of the ad the woman pour a glass of water on the Xperia Z to clean it off, showing the phone's waterproof feature.
The ad mostly talks about experiences that Sony enables with its products, implying that its newest smartphone, the Xperia Z will let people experience even more unique experiences. It's almost more of an ad for the Sony brand than for the Xperia Z, but it is a particularly effective Sony brand ad.

As an Amazon Associate I earn from qualifying purchases.