Sony VAIO Flip Announced, Looks To Take on Lenovo Yoga Series
In an effort to take on Lenovo's Yoga convertible laptop series, Sony announced the VAIO Flip today during their press conference at IFA 2013. The VAIO Flip is Sony's first crack at a true convertible hybrid laptop tablet combination, and it can be folded into several different positions. And unlike, Lenovo's offerings, the VAIO flip comes in larger screen sizes as well.
The device can work as a standard laptop, but you can also fold the display down over the keyboard and have it face outward in order to use it as a tablet. There's also a photo frame-type stance where you can fold the display back behind the keyboard and use it for presentations or for showing off a slideshow of photos and such.
The VAIO Flip comes in 13-,14- and 15-inch screen sizes, which is a step up from Lenovo's 11- and 13-inch options for the Yoga. However, the design of the Flip is rather unique and reminds us of the recently-announced Acer Aspire R7. The hinge goes all the way across the laptop, and takes up about half the surface area of the device, so when you flip the display and such, you get the same action as the Aspire R7 where it looks like the USS Enterprise from Star Trek.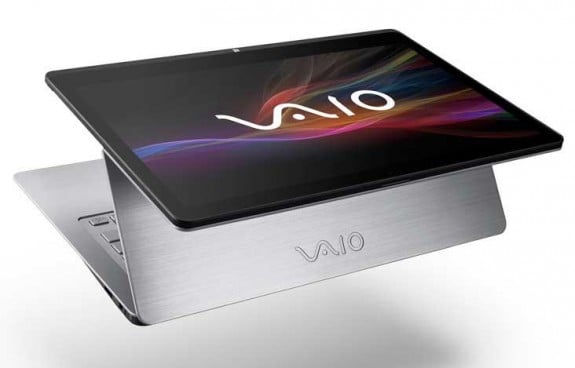 It seems a little wonky, but it certainly works. The entire device is well-designed, though, and it includes an aluminum shell with a fiberglass bottom for robustness. It has a sleek and simple look with chiclet-style backlit keys and a fairly large trackpad
Spec-wise, the 13-inch model comes with a 1920×1080 display, with the 15-inch model sporting an impressive 2880×1600 resolution. The Flip comes with discrete graphics, but is upgradeable to a 2GB Nvidia 345M graphics card. You'll have options with the processor; either an Intel Pentium processor or a newer Core i3 Haswell chip with 4GB of RAM. Options are also available for SSDs or hybrid drives.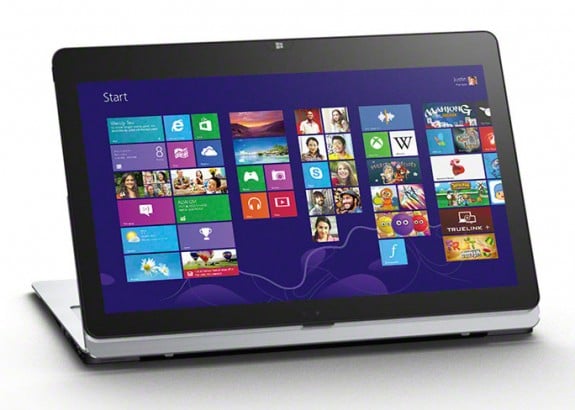 Sony hasn't announced pricing or availability yet for the VAIO Flip, but they'll be bringing the hybrid laptop to Europe first, with North American availability to come soon after. However, we should be hearing about these details rather soon, as we're sure Sony is excited to get the new device out the door and on store shelves. It'll definitely be interesting to see how the convertible laptop performs out on the market, competing against Lenovo's IdeaPad Yoga series and Acer's Aspire R7. Lenovo is making quite a splash in the laptop business, so we'll have to wait and see if Sony can throw them off their game.