Sony Xperia X Release: What You Need to Know
Earlier this year Sony announced the Xperia X as a successor to the popular Xperia Z, and now we have all the details for buyers. As the U.S. release date inches closer users will want to know all about the new Sony Xperia X and Xperia X Performance.
In February the Sony Xperia X was unveiled during the annual Mobile World Congress tradeshow. Since then however, we've seen popular phones like the Galaxy S7, LG G5, HTC 10 and more hit the market. Those waiting for Sony's latest don't have to wait much longer, as we now know when to expect an arrival as well as pre-order availability.
Read: Sony Xperia Z5: Key Details
Likely timed to match the many products coming out of Computex, In May Sony announced some key information about the new flagship Xperia X, and the higher end $700 Xperia X Performance that are both coming this summer. Here's what we know right now.
The company has been making great phones for years, but most are never released in the United States. To make matter worse, flagship phones like the Xperia Z5 from last year arrived extremely late, and missing features the international model had like a fingerprint scanner.
And while we're not yet sure if the same move will take place for the new Xperia X, it's available for pre-order starting today from places like Amazon, Best Buy, B&H and more will be coming soon. These listings weren't live back in May, but here on June 22nd its now available for pre-order. Here's what prospective buyers need to know.
Xperia X Design
While the company changed the name and are offering new colors, the phone remains quite similar to others from Sony over the past few years. Sporting an average sized 5-inch 1920 x 1080p Full HD display, plastic design, and aluminum edges around the frame for added styling and durability.
The Xperia X looks what appears to be dual front facing speakers, a big camera around back, and as you can see from the image above a fingerprint scanner built into the side-mounted power and wake button. They don't use a front or rear scanner, but claim the side button sensor is just as fast as accurate as the competition.
Again, we're not sure if the US models will have a fingerprint scanner, but given the price they're asking, we expect them to.
Both the Xperia X and X Performance will be available in White, Black, Lime Gold and Rose Gold color options.
Xperia X Display
Sony has excellent screens inside their smartphones, but this latest release is starting to lag behind the competition, even if higher resolution screens aren't necessary. Both the Xperia X and the higher-end Xperia X Performance has 5-inch 1920 x 1080p Full HD resolutions. No Quad-HD screens like everything from HTC, Samsung and LG as of late.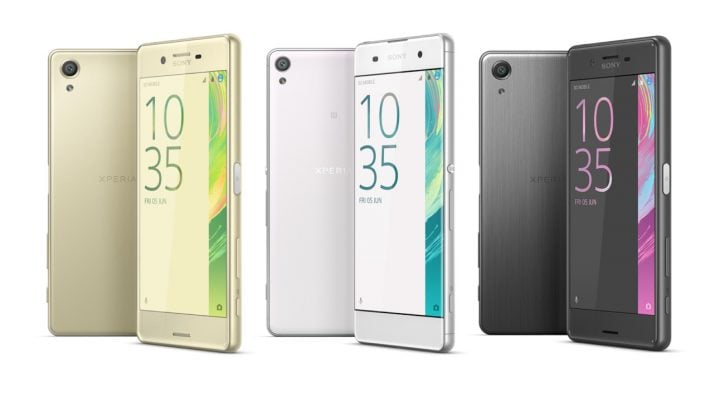 However, the smaller 5-inch 1080p display will likely yield pretty good battery life, good colors, and Sony's engine for improved visuals across the board. We'll need to try one before commenting further.
Xperia X and X Performance Specs
Compared the competition both of these phones are coming in slightly under the competition in terms of specs on paper, but still have plenty to offer. They're nearly identical, with the X Performance having a slight increase across the board to warrant the higher price point. Here's the information for those interested.
Xperia X Specs
5-inch 1920 x 1080p HD Display
Qualcomm Snapdragon 650 Processor with 3GB of RAM
32GB of storage, microSD up to 200GB
Android 6.0 Marshmallow
23 Megapixel Rear and 13 Megapixel front cameras
Fingerprint Scanner, Clear Audio+ technology
2,620 mAh battery
more
As for the Xperia X Performace, take the same information above but slightly improve it. That phone will be released a little later than the original option, and comes with a more powerful Snapdragon 820 Quad-core processor with 3GB of RAM, a bigger 2,700 mAh battery, and slightly bigger dimensions. We're not sure if the faster processor and small battery capacity increase is worth the price, but we'll let you decide.
Xperia X & X Performance Price & Release Date
Here's where things get a little bit tricky. We still don't know if these phones will have a fingerprint scanner when they're released in the United States, and the specs are already lower than much of the current competition.
That said, the X is available for pre-order starting May 31st from Sony, Amazon and others, starting at $549. It will be available on June 26th with support for multiple carriers. Pre-order pages were out of stock or only placeholders, and now on June 22nd with just four days to go before the release, all pre-order pages are now live. Go order your Xperia X today.
Then we have the Xperia X Performance, which went up for pre-order on June 19th and will be released near the end of July. It will retail for $699, which puts it in Galaxy S7 territory yet with lower specs throughout. There is also a budget model called the Xperia XA for $279.
Both phones look good and have pretty solid specs, but at the same time users could snag a Nexus 6P or Galaxy S7 with similar or better performance and features, right now. Either way, stay tuned for more details and expect these to be available in the next few days, and in July for the high-end model.

As an Amazon Associate I earn from qualifying purchases.