Sony Xperia Z Price Leaked Ahead of CES Debut
A new leaked advertisement gives a hint at the pricing for the upcoming Sony Xperia Z, according to Unwired View.
The Thai ad for the Sony Xperiz Z comes from SonyXP, and it might give a clue to the pricing of the upcoming Sony flagship smartphone. The ad says the Sony Xperia Z will cost 19,990 baht in Thailand, which converts to about US$659 with today's exchange rate.
That price is for the unlocked model of the phone, and if it holds true in the U.S. the phone will cost about as much as the unlocked iPhone 5 in the U.S. Assuming Sony has U.S. retail partners for the Xperia Z, the on-contract price will be much lower than $659. High-end phones like the Sony Xperia Z typically sell for anywhere from $199 to $299 on contract, depending on their storage capacity and physical size.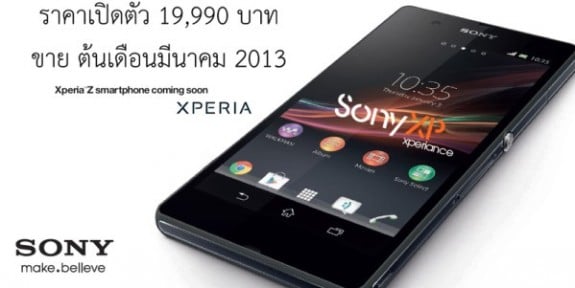 Sony will announce the new Xperia Z next week at CES alongside the Xperia ZL. Sony will likely announce the the price of the phone at the show as well.
The Sony Xperia Z will likely have a 5-inch 1080p display like the recent HTC DROID DNA. Like the DROID DNA and the Nexus 4 the Xperia Z will possibly feature the quad-core 1.5GHz Snapdragon S4 Pro processor from Qualcomm. It will also be likely to have 2GB of RAM and a 13MP rear-facing camera.
It's still not clear when Sony will actually release the Xperia Z to the market, but there's a chance the company will announce that at CES. Recently Sony smartphones have come to the U.S. on AT&T's network, and the Xperia Z could come to AT&T as well.
Sony's other phone at CES, the Xperia ZL, previously codenamed Odin, will also debut at CES next week. That phone also has a 5-inch 1080p display, but it has a wider phablet form factor more similar to the Galaxy Note II. There's no word on its pricing or release date yet.

As an Amazon Associate I earn from qualifying purchases.