Sony Xperia Z Ultra Google Play Edition Now Available
Looking for an over-sized Android device without all the issues that a manufacturer-modified version of Android can't provide? As of now the Xperia Z Ultra Google Play Edition, the Sony-made handset that features an enormous 6.4-inch high-definition display, is now available in the Google Play Store for $649.
The Sony Xperia Z Ultra Google Play Edition comes equipped with all the same hardware features that users would expect. In addition to that super-sized 6.4-inch display, the device also includes a 2.2GHz quad-core  processor and 2GB of RAM, making it a powerhouse, when compared to contemporary flagship devices like the Samsung Galaxy S4 and the HTC One.
The Sony Xperia Z Ultra Google Play Edition also includes some pretty camera hardware. The device features a rear-facing 8 megapixel camera with an Exmor RS sensor. The front of the device sports a 2 megapixel camera for video chatting and taking self-portraits. Users purchasing the Sony Xperia Google Play Edition can expect 16GB of storage for just $649. They'll be able to boost that storage with an external memory card if they choose.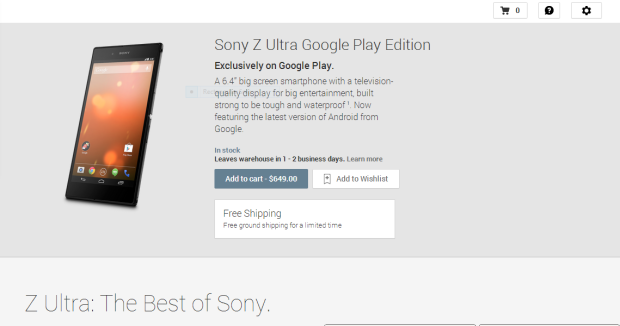 The device also features Wi-Fi, Bluetooth and NFC support so that users can quickly pair their device with accessories.
While paying $649 for a device might not seem all that exciting. Google's efforts in introducing Google Play Edition versions of manufacturer's devices ensures that enthusiasts who don't want a two-year contract can get their hands on the latest and greatest smartphones without all of the add-ons that devices form carriers include.
These devices aren't hindered by carrier upgrades and only Google decides what apps and services ship with these devices. As such, Sony Xperia Z Ultra Google Play Edition comes complete with the latest version Android 4.4 KittKatt.
Read: Sony Xperia Z Ultra Announced with 6.4-inch Display & Stylus
Users with accounts on AT&T and T-Mobile shouldn't have a problem using the device on either carrier's networks. The device includes support for T-Mobile's HSDA+ technology and both carrier's 4G LTE data networks.
Currently, the Google Play Store is showing shipping times of 1 to 2 business days. For a limited time users can purchase the device and not have to pay for shipping.

As an Amazon Associate I earn from qualifying purchases.