Sparrow for iPhone Update Adds Browser, Push Notifications Coming Soon
Sparrow for iPhone has received an update that brings some requested features to the app, but the big one, push notifications, is still missing.
The new Sparrow for iPhone 1.1 adds features to help clean up the unused labels, a browser, and an easy way to reach Inbox Zero. The team is still working on Push, though.
The Sparrow team is touting Send & Archive as the big new feature for this release. With this feature you can choose to archive an email as soon as you send off a reply. You still have the option to not archive emails you replied to, but if you strive to reach Inbox Zero, you probably already archive those emails anyway, this just makes the process faster.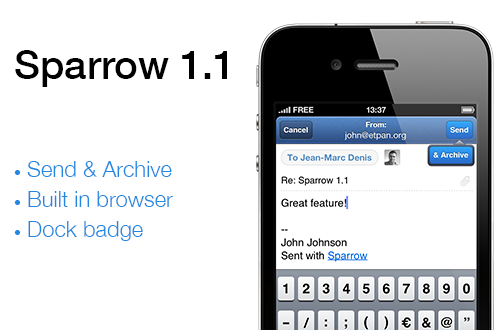 Sparrow for iPhone 1.1 also adds a built-in browser so you're not sent into Safari whenever you tap on a link.
To make the app layout cleaner, users can now choose to hide labels they don't use very often. The labels are still in Gmail, they just won't clutter up your menu anymore.
The last update lets users decide which inboxes they want represented in the badge icon. So if you have one email account that's mostly just Groupon emails and newsletters you can choose to hide those emails from the badge icon so it only shows the number of unread emails you actually care about.
Sadly Sparrow for iPhone 1.1 still doesn't have Push, but the team promises it's coming.
The team is confident that Apple will reverse its stance on the Push API. If it doesn't, however, Sparrow for iPhone 1.2 is being built with some partners that will allow for Push notifications.
With luck, Sparrow won't need those partnerships, but either way version 1.2 will have Push in some form, whenever it reaches the App Store.

As an Amazon Associate I earn from qualifying purchases.