Sparrow for iPhone Push Notifications Arrive for Jailbroken iPhones
Last week, Sparrow for iPhone arrived, an email client that my colleague Josh Smith described as a "nearly perfect email experience." One of those reasons was that the app lacked push notifications, a feature that the developer says might not arrive for months down the road. Well, we have some good news. And some bad news regarding that situation.
The good news is that push notifications have arrived for Sparrow for iPhone. The bad news is that you'll have to have a jailbroken iPhone in order to get them.
A new, free tweak called "SparrowPush" has arrived on Cydia, the unofficial app store for those toting jailbroken iDevices, and it will ensure that you never had to go into the app to refresh your mailbox ever again.
You can see SparrowPush in action in the video below.
Instead, the tweak will send you a notification when you receive new email. Even when the app is running in the background. It's a nifty little feature and one that jailbroken iPhone owners will appreciate.
Now, as for those that don't want to jailbreak, you're out of luck for the time being.
Sparrow for iPhone's creator Dom Leca has said that it might take months for Apple to approve push notifications for the app, if it ever gets approval at all.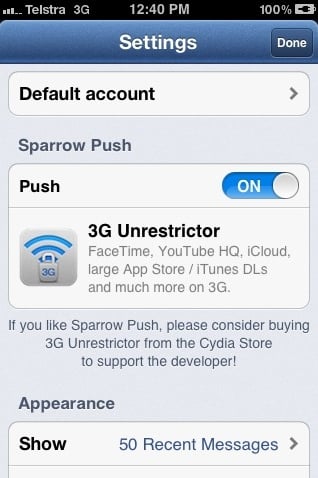 And while push notifications alone do not make the email client perfect, they certainly make it a whole lot better.
Sadly, those using an iPhone 4S on iOS 5.1 will not be able to get this tweak because a iOS 5.1 jailbreak is currently not available for iDevices running Apple's A5 processor. Fortunately, work is in progress so we should see something soon.
For those that are jailbroken and using Sparrow, you can find the app on Cydia.
Via: iDownloadBlog

As an Amazon Associate I earn from qualifying purchases.