Sparrow Push Notifications Coming Soon with Yearly Subscription
Sparrow for iPhone updated to version 1.2 this morning with some new features, but Push notifications are still coming soon.
According to the Sparrow team, despite more than 16,000 people signing a petition to Apple, the company won't let the app use the API it needs to enable Push notifications. That means the team needs to find its own way to enable Push. Sparrow 1.2 doesn't add Push, but a future update will add the feature for those who want it.
The only downside to the way the Sparrow team has to go about enabling Push is the team has to charge users a yearly fee. We don't know when the update that enables Push will come, nor do we know how much it will cost. All we know is the future update will make Sparrow the best mail client on the iPhone.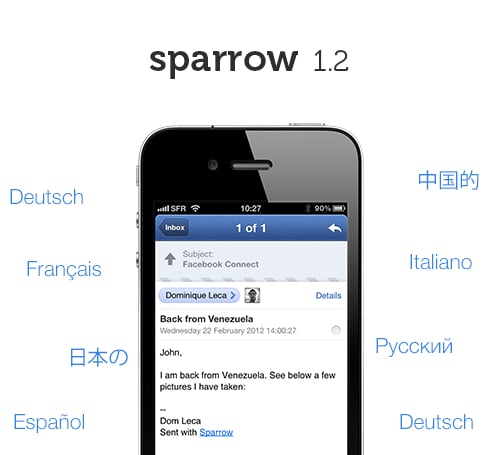 Despite the lack of Push, Sparrow 1.2 does add a number of new features. The biggest new feature is an easier way to go between messages. In previous versions, users had to go back to the inbox to view other emails. In version 1.2 users can swipe up or down to read the next message.
Sparrow 1.2 also add the ability to edit and create folders/labels. Now users can sort their email more efficiently on their iPhones without having to go to a desktop or mobile page to create new labels in Gmail.
The last new feature is landscape editing. Now Sparrow users can turn their iPhones sideways and type using the landscape keyboard, should they want to.
Finally, Sparrow is now localized for nine languages including English, French, German, Spanish, Italian, Japanese, Dutch, Russian, and Chinese.

As an Amazon Associate I earn from qualifying purchases.