Special Edition Titanfall Controller is Xbox One's First
Microsoft will look to brighten up user's Xbox One experience with a new lightly colored controller soon. Today the company formally announced a special edition Titanfall controller for the Xbox One that eschews the standard controller's black color scheme and more.
The company showed off the new special edition Xbox One controller in a post and video this morning. Gone is the controller's matte black finish. Instead, the most of the controller's shell is painted white and features shapes and signage  from Titanfall, the upcoming third-person shooter/action adventure game that's scheduled to come to the Xbox One exclusively in March.
Users will be able to pick up the Xbox One Titanfall Limited Edition Wireless Controller beginning March 11 in the United States for $64.99. Though more expensive than picking up a standard Xbox One controller, the higher price isn't too bad considering the controller's "limited edition nature." For comparison, a standard edition Xbox One controller costs users $59.99.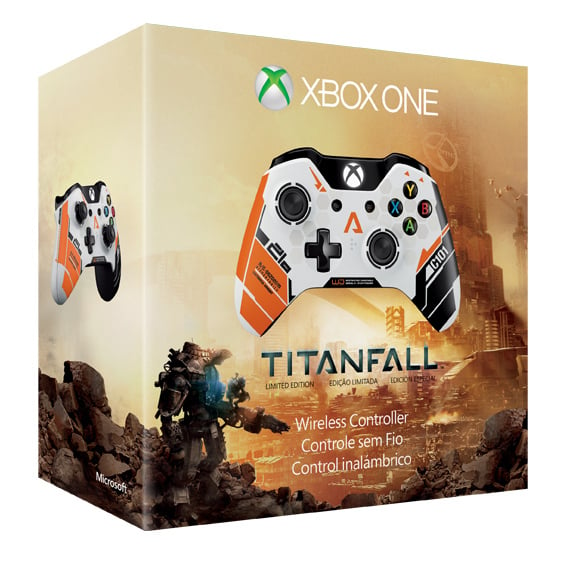 Microsoft's own retail store is already accepting pre-orders for the controller.
It sounds as if Microsoft really worked hard to start the Xbox One's limited edition controller line off with a bang. A separate post on Xbox Wire indicates that Microsoft collaborated with Respawn Entertainment, Titanfall's developer, to create the controller and all of its flourishes. The controller's logos and designs were all created by the Respawn's art team. They match the in-game C-101 carbine weapon used by the game's pilots.
It's logical that Microsoft would choose Titanfall as the first subject for a special edition controller. The game is exclusive to the Xbox One and PC, making it one of the few titles Microsoft can count on to convince users to purchase an Xbox One in the near future. That the game earned awards ever since it was first shown at last year's Electronic Entertainment Expo couldn't have hurt either.
Titanfall launches on March 11 in North America for $60.

As an Amazon Associate I earn from qualifying purchases.