Speck CandyShell Grip iPhone 5 Case Review
The CandyShell Grip doesn't offer full protection for the iPhone 5, but it does absorb shock and provide grip for iPhone gamers with slippery fingers.
Speck's CandyShell Grip is lightweight and doesn't add much weight or bulk to the iPhone 5. With the case on, the iPhone 5 still feels lighter than the iPhone 4S. The case mostly adds a bit of shock protection, color, and grip to the back of the iPhone 5.
Like most Speck cases, the CandyShell Grip has a two-layer construction. There's a soft silicone inside that wraps around the phone and a hard plastic shell around it. The hard plastic shell also has ridges of the soft silicone that provide the grip that gives the case its name.
The grip on the back of the case makes it easier to hold the iPhone 5 when playing games that make the player tilt the phone. In my experience my iPhone has never slipped through my fingers while playing without the case, but the texture does give a small sense of extra security.
The added texture feels very nice in the hand when playing games and when performing other tasks. Surprisingly it doesn't make the phone harder to put in or take out of a pocket like some soft cases do.
The CandyShell Grip covers the power button and volume buttons with the soft touch silicone. Unlike previous generations of Speck cases the buttons are very easy to press through the silicone. There is a bit more resistance on the volume buttons, but they're still easy to press.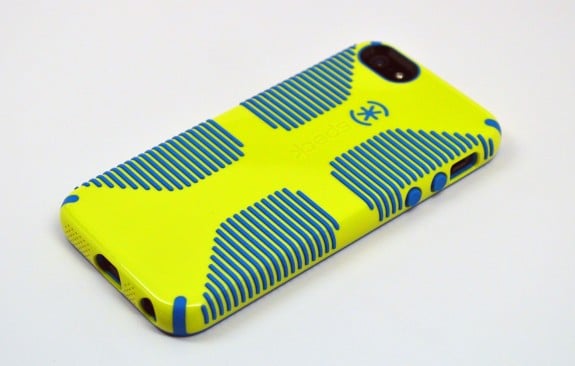 The vibrate switch, headphone jack, and Lightning port are all uncovered and easily accessible. I tried plugging in a number of headphones while using the case and none of them had trouble plugging in fully.
The speaker and microphone of the iPhone 5 are somewhat covered by the CandyShell Grip, but Speck placed a number of small holes above them to let the sound through. The case doesn't interfere with the sound coming out of the iPhone at all, everything sounds just like it does with the case off.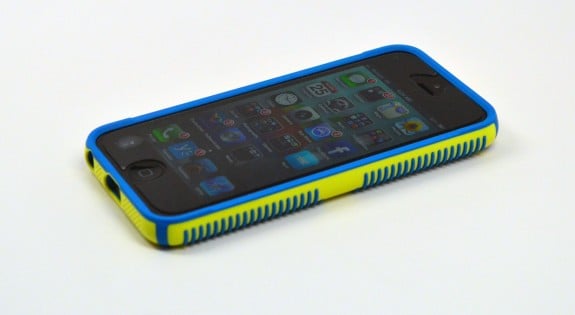 The same goes for the microphone, I didn't hear any complaints of muffled sound  when I used the case, which I was afraid of.
Speck offers a one year warranty on the CandyShell Grip, like it does with every other case it sells. For $34.95 it's a great case for users who just want to protect the back of their phone and make it easier to hold in one hand. Don't expect it to protect the screen, however.