Speck PixelSkin HD Wrap for New iPad Arrives
iPad owners looking for the perfect case need to take note of the new PixelSkin HD case from Speck.
The PixelSkin HD Wrap for the new iPad continues the tradition of great looking, slim, form-fitting cases that have made Speck cases a perennial favorite at GottaBeMobile.
(Read: 35 new iPad Cases, Covers & Skins)
This case adds grip, angles for watching and typing as well as a magnetic sleep/wake function for $49.99.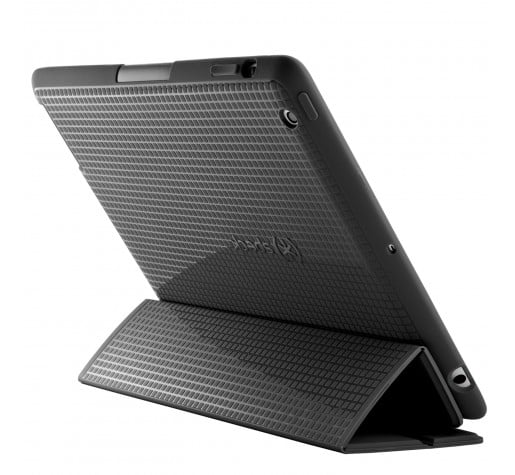 Speck improves on the Smart Cover's folding cover by adding a TPU grip-able back cover to keep your iPad safe from scratches and bumps. Small blocks, that look like pixels from an 8-bit game, cover the PixelSkin HD Wrap. Sadly there is no Mario design.
Speck designed the case to hold your iPad up while watching movies or at a comfortable angle for typing on a flat surface. The new PixelSkin HD Wrap is fundamentally the same as earlier versions, but designed to fit the new iPad's girth.
The PixelSkin HD Wrap has a clip that keeps the cover shut. Unlike the Smart Cover this clip should stay shut while on the go and when dropped. This case won't stand up to massive drops and abuse, but a closed cover can make the difference between a broken screen and a working iPad.
iPad owners can buy the Speck PixelSkin HD Wrap in black, cobalt, bubblegum and grape.
The PixelSkin HD Wrap for the new iPad is available online today for $50. The case  is available at Target starting on April 15th. Speck cases are also available at the Apple Store, Best Buy and many cell phone retail locations.