Specs Leaked for HTC Ville C Smartphone
In addition to the budget-friendly HTC Desire C that we've just heard about, it appears that HTC will be expanding its 'C' lineup with another device that's being called the Ville C. Though the company has not formally introduced the Ville C to the world, its basic specs were leaked by Brief Mobile and the device appears to be a more affordable model of the HTC One S, a device that's currently available in the U.S. through carrier T-Mobile USA.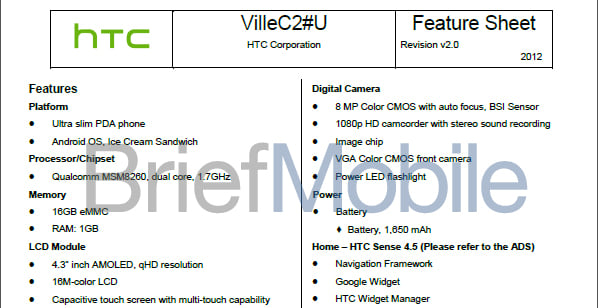 Like the One S, the Ville C will have an ultra slim form factor, according to sources to that publication, but it's unclear if the Ville C will use the same micro arc oxidation process that the One S's ceramic shell underwent. The device will come with a 4.3-inch qHD display, Android 4.0 Ice Cream Sandwich, and Sense 4.5 according to the leaked document. It's unclear what's new on Sense 4.5 compared with the current Sense 4.0 that's shipping on devices like the HTC One X, One S, and EVO 4G LTE on Sprint. HTC Sense is HTC's user interface overlay that comes with custom apps, widgets, and a skin that the company hopes will make Android more attractive, user-friendly, and more pleasant.
Additionally, the Ville C will have 16 GB of storage, 1 GB RAM, and will have a dual-core Snapdragon S3 processor clocked at 1.2 GHz. The listing shows that the CPU is clocked at 1.7 GHz, but that is said to be a typo. The device will have a rear-facing 8-megapixel camera with 1080p HD video recording and a front-facing VGA webcam.
With the S3 processor, this one would make for an excellent high-end device on prepaid networks, such as Virgin Mobile or Boost Mobile in the U.S.
The battery is listed at 1650 mAh and it's unclear if the battery will be removable, but given that the device is described to be ultra slim, it may not be to keep the device sleek.

As an Amazon Associate I earn from qualifying purchases.