Speculation Begins to Bubble on a Google Tablet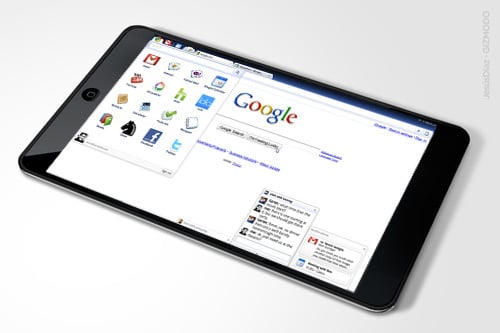 As I've said many times, everybody is working on a Tablet of some kind or another. The New Year weekend so far has been pretty quiet (expect that to change in about 48 hours or so) but rumors that are already a-swirl continue to bubble up that Google is working on a Tablet. This latest one says that Google is working with HTC and of course this would be running Google's Chrome OS, so that probably pushes things off into the latter stages of 2010 if not later.
The following is purely speculation on my part and more than likely completely unfounded. In fact, call it a devilish wish. Google has already called a press event for January 5. Apple's big event, in which the world is assuming it will announce a Tablet is January 26. Most folks think the Jan 5 Google event is to announce the Nexus One phone. But given the battle that seems to be going on for control of the mobile world between Google and Apple, there would sure be some fireworks unleashed if Google were to announce plans for a Tablet on Jan 5. Again, just devilish wishing, but you never know.
Smarthouse via Gizmodo