Spending some time with OQO's Bob Rosin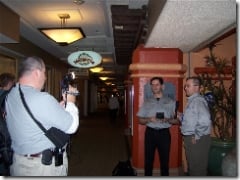 We just interviewed OQO's Bob Rosin, Senior VP of Marketing and Alliance, taking a look at the new sexy OQO Model 02 Tablet PC.
The Model 02 is a beautiful unit. Checkout the announcement post for complete specs.
The ooh's and aah's really came out when Bob showed us the docking station. We'll post some closeup pictures later, including the video interview.
Bob told us that they expect to begin shipping in approximately 8 weeks, but are currently taking orders.

This article may contain affiliate links. Click here for more details.