Spill some ink with the Dagi capacitive stylus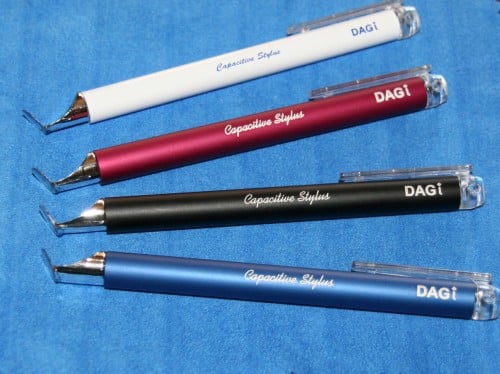 A new capacitive stylus making the rounds lately is the ST C400 from HTC. Looks pretty slick, particularly with that transparent tip that lets you see where you're inking, but as several people have pointed out, it's actually a rebrand of the Dagi transparent stylus, which can be found on eBay for ~$12.
Capacitive touchscreen stylus solutions got moved to the front of my gray matter today, thanks to a new video showdown between capacitive and resistive and an inquiry from reader Antimatter. My initial plan was to get a Pogo Sketch, the full-sized version of the Pogo. However, after watching the Dagi in action (and finding it for cheap on eBay), I'm inclined to give it a try. Coupled with a SmudgeGuard glove to shield the screen from the side of my hand (several Wacom Cintiq users swear by this thing), it could be just what I need to bring my capacitive touchscreen inking experience up to acceptable levels.
Doubt it will convert me from being an enthusiast of the active digitizer, specifically Wacom, but the idea of being able to adequately spill ink on any touchscreen is highly appealing.

As an Amazon Associate I earn from qualifying purchases.