splitsecnd: Could This $200 Gadget Save Your Life after a Car Crash?
splitsecnd has created a small device that plugs into the power port (or cigarette lighter port) of your vehicle. Unlike many devices that could be plugged into that port (cell phone charger, GPS power cord, lighted fuzzy dice) this device actually does an amazing thing: it might save your life in the event of an automotive accident.

Built into the splitsecnd device is a cellular phone connection, a GPS, an accelerometer and a battery. When the system detects that you are about to crash, it will make a call to the splitsecnd command center. A representative will attempt to communicate with you to determine if you are okay, and call 911 to dispatch emergency medical personell if you are not.
The splitsecnd device has a USB port integrated to it so that you can continue to charge and use your devices that may power via USB. Also, the built-in GPS receiver can be used to track the vehicle through their Family Monitoring service. If you want to make sure your child or spouse made it to their destination safely, you can do so.
There are other crash monitoring systems out there, but they typically need to be installed permanently in the vehicle. The splitsecnd system can be moved from vehicle to vehicle with easy installation. The General Motors system utilizes a built-in cell phone to call the OnStar command center in the event of an accident and a OnStar representative will triage you over the phone and dispatch medics if necessary. The OnStar system also carries a yearly fee. The Ford system is part of Sync, and utilizes your cell phone for the communication part. Free on vehicles equipped with Sync, the system will call 911 if you are in an accident. The call can be aborted before dialing, but there is no Ford representative speaking to emergency dispatchers. The integrated systems have one major design flaw; the system must have power from the vehicle's battery. The splitsecnd device, however, will continue to work with its integrated backup battery.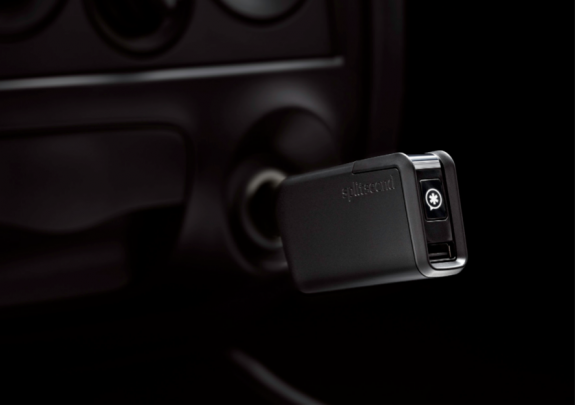 splitsencd is $200 to purchase and $14.95/month to maintain. With the service fee there is also the aforementioned family tracking. Like the free tracking built into the iPhone, the system can be defeated by turning off the device. However, it is a nice value add since the technology is already built in. In a multi-vehicle household (where the device can be transferred from vehicle to vehicle), the splitsecnd becomes even more valuable. With people looking at safety features more than ever in their automobiles, splitsecnd is hoping to take advantage of a fast-growing niche.