Spotify for iPad is Finally Here
Spotify users no longer have to rely on the iPhone app to use the music streaming service on their iPad.
The new Spotify iPad app is a Universal app, so users that already had the iPhone app on their iPad just need to update it to get the new UI. The iPad Spotify app looks nothing like the iPhone version, instead the app looks like the Twitter app for iPad.
Selecting a playlist or album brings in a new pane from the right side of the screen with the full track list. The song that's currently playing is always along the bottom of the app, with the option to view it in full screen as well.
According to All Things D, Spotify CEO Daniel Ek refers to the iPad app as "more of a home-stereo controller instead of a standalone app." The intention is users will stream music from the app to their AirPlay speaker or Bluetooth speaker like the Jambox. Users can still use the app on its own, but the interface (especially with songs in full screen) does lend itself to more of a controller experience.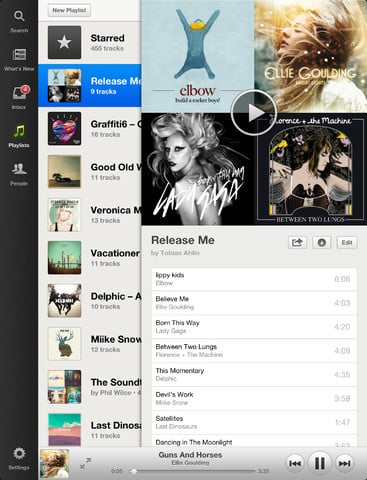 Like the iPhone and new Android app, the Spotify iPad app can stream and sync music up to the "extreme" bit-rate of 320kbps. The only functional difference between the iPad app and the iPhone app is the "What's New" page. The iPad app's "What's New" page looks more like the desktop app's page while the iPhone's page holds less information.
To use the new Spotify app users still need to pay $9.99 per month, though the app can also be used during the short Spotify Premium trial period as well.