Spotify Review: What To Know Before Signing Up
Music is a unique experience, and when provided to users correctly it can be a magical thing. Unlike the iPhone or devices running Google's Android operating system, music knows no roots in technology. It's an ancient art form, something humans have produced and admired for hundreds of years. For many users, Spotify, the world's most widely used subscription music service, is how they tap into the magical world of music.
And it's easy to see why they do. The iPhone and other mobile devices' marketplaces are stuffed full of random music services, but they don't compare to Spotify. It has its own tricks, its own ways for users to learn about new music and its own restrictions that make using it more useful than purchasing CDs and copying their content over.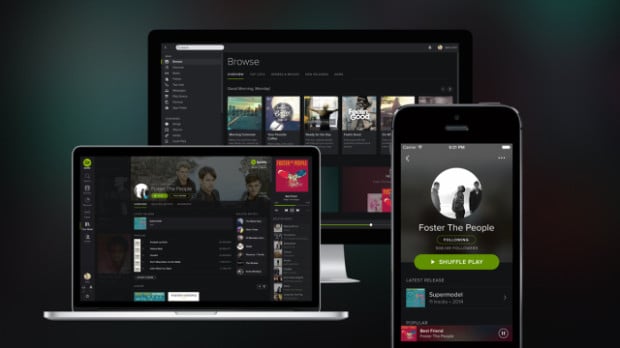 Read: Why Spotify Looks Different for iPhone Users
What You Need to Know Before Signing Up
Today, there are dozens of music services available for Apple's iPhone and iPad. They each come with their own quirks that users have to understand before signing up. Spotify for the iPhone & iPad has its own set of quirks too.
In order to attract as many users as possible, Spotify for iPhone allows users to stream from their content library absolutely free of charge, provided that they sign up for a free account and login to the mobile app. Once logged in users can stream an unlimited amount of songs in sequential order from playlists provided by the service and from other users. Spotify does throw audio and visual advertisements into the playlists automatically.
Of course, that users are forced to listen to those advertisements is the biggest catch, however there are also some other downsides of using Spotify without a subscription. Today, Spotify for iPhone users who haven't signed up are only granted a certain number of skips per day. That is to say, users can only try to skip so many songs in a playlist before the service stops allowing them to go to the next song. How man skips users are allowed to perform per day has changed over the years. Today, that limit is 5. Spotify used to restrict users from playing their favorite songs more than 5 times without a subscription too, but it ditched that restriction back in 2012.
For some users, having to listen to advertisements and not be able to skip individual songs is going to be worth paying the $9.99 a month that it costs for a Spotify subscription. Spotify Premium subscribers don't listen to advertisements and they can download music to keep on their device in the event that they don't have an internet connection. That's key since Spotify for iPhone users are likely to be moving around in places that don't have a strong internet signal. Above everything, the key advantage is that users are able to listen to Spotify on every single device they own, free. Spotify streaming is currently limited to the Mac, PC, iPhone and Android, so Windows Phone or users with other devices will need to pay for the subscription anyway.
Getting & Finding Your Music Anywhere
Building a Collection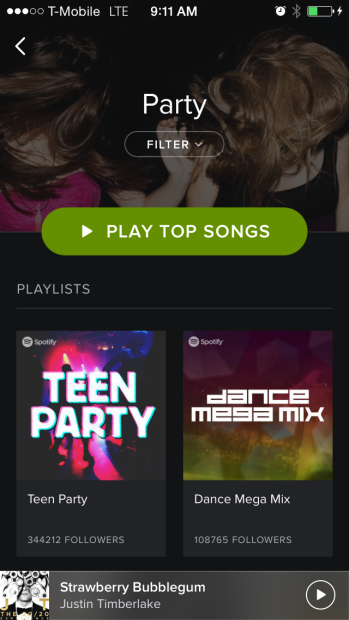 Spotify for iPhone and the rest of the apps and services have won over music listeners the world over for more than just offering free streams. Spotify approaches music listening from a problem solving perspective. With older music subscription services like Microsoft's Zune or Rhapsody, users had to tether their mobile devices to their computer and manually transfer music over to it. It's a process that iTunes users who've purchased music through the iTunes Store should be familiar with.
Spotify lets users weave together a library that's available wherever they are. Adding playlists, albums or songs to the Spotify for iPhone app will make it available on the Spotify for Windows and Mac apps and vice versa. It really takes out a key inconvenience of past services. It helps that Spotify is available absolutely everywhere. There are apps for Windows Phone, Android, iOS, Symbian, BlackBerry, Windows and Mac OS. In addition, there is a web app for everyone to use in their web browser. It too allows users to stream music for free with ads. It's because of these two things that users can build a library in Spotify for iPhone and know that it will be available on other platforms should they ever decide to switch.
Finding Music
Where Spotify for iPhone and its other versions really blow other music subscription services out of the water is the way users find music that they love.
Users can quickly and easily discover music by finding a song, album, or artist they like and activating the Radio feature. The Radio system analyzes the content in question and then provides a three-hour long playlist based around that. Users can start out with an artist they've heard hundreds of times before and end up with all new favorite songs or albums. It's a unique idea, one that embraces the music discover powers of traditional radio without all the hassle.
Spotify for iPhone subscribers could stream music from the service for years and never realize that Spotify is also the world's largest music social network service. When signing up, users are asked to pair Spotify with their Facebook account. Users who do can follow their friends and family to see what they're listening to. By default Spotify broadcasts what users are listening in real-time to other subscribers. Thankfully, users can choose to make their listening habits private for a single session or permanently.
Spotify editors create their own line of specialty playlists that are automatically updated with new tracks. Users themselves can create their own playlists and share them with everyone. For example, Spotify has a dance playlists that updates every week, and right now there is a very popular playlists created for the music featured in the Grand Theft Audio series of console games.
All of these features are on top of an app experience that feels like it was made by real music fans. There are tons of shortcuts for discovering more music from single artists through out the Spotify for iPhone experience and biographies for popular artists that discuses their influences and musical styles. Spotify automatically sends users notifications when playlists they follow have been updated too. Spotify really is like having a music store in your pocket.
Is It Worth It?
So is Spotify for iPhone worth downloading? Absolutely, especially since its music catalog and free music streaming services are the best available. That much goes without saying. iTunes Radio is useful, but it's not nearly as robust as what Spotify offers and requires users to have a $24.99 a year subscription to iTunes Match if they don't want to listen to ads.
Really, it's those social networking features, particularly community created playlists, that make Spotify so much better than iTunes Radio and far better than the services Google and Microsoft are offering. At $9.99 a month, a premium subscription for the Spotify for iPhone and iPad app is a much better idea for big music lovers. That way they can build a large music library and listen to whatever song they want without ads or interference.
Downloading Spotify for iPhone, iPad, and Android is absolutely free and grants users a free week-long subscription. Users who subscribe online are treated to a month of the service at absolutely no charge. For now, Windows Phone users are required to sign up for the service before streaming on that device. Students can get a premium subscription for Spotify for iPhone for just $4.99.

As an Amazon Associate I earn from qualifying purchases.