Sprint 4G LTE Blasts Past 3G at 25X Speed
While we still don't have a firm release date for Sprint's 4G LTE network, we now know – like there was ever any doubt, that its next-generation high-speed network is going to be much faster than the 3G network that its 4G LTE device owners are currently using.
PCMag was able to get some early access to one of Sprint's 4G LTE launch cities, Atlanta, Georgia. Atlanta will be joined by Baltimore, Dallas, Houston, Kansas City, and San Antonio when Sprint finally launches its much anticipated 4G LTE network sometime this summer.
The publication got access to five locations where 4G LTE is live in Atlanta and it ran some tests that indicate that Sprint's 4G LTE network is ready for prime time.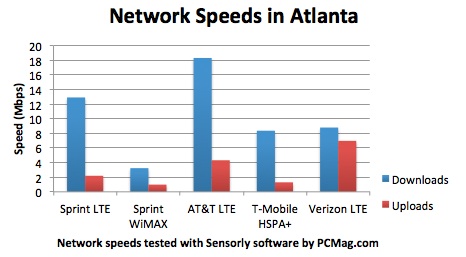 Read: Sprint Owes Customers a 4G LTE Release Date.
Keep in mind, Sprint knew that the tests were coming and that they provided tuned up phones at specific 4G LTE locales. It'll be even more interesting to see how Sprint's 4G LTE network runs when engineers aren't meddling.
Nonetheless, the results of the tests were impressive. Sprint's 4G LTE network is apparently 25 times, yes, 25 times faster than its notoriously slow 3G network. If that's not music to 4G LTE device owners ears, we don't know what is.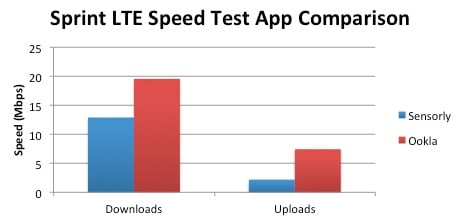 It doesn't, however, match the speeds obtained by the 4G LTE networks of AT&T and Verizon. That's not because it's worse, it's because it doesn't have as much spectrum as those two do. Sprint is apparently going to be building up the floor, meaning it's not going to be shooting for the top speeds.
Instead, it wants to offer good consistent speeds and we doubt Sprint customers will complain about that.
Sprint's 4G LTE network averaged between 9Mpbs and 13Mpbs upload and it was able to reach up to 26.5Mpbs for downloading speed. That is plenty fast for the average user.
The carrier unfortunately did not provide 4G LTE owners with an exact release date for its 4G LTE network leaving customers in the dark once again about the roll out.
Sprint has said that it will be rolling out the network in mid-2o12 and mid-2012 arrives at the end of June. So hopefully the carrier provides some details about its 4G LTE network soon .