Sprint 4G LTE Coverage Map Leaks
Sprint has said that it will be completing the roll out of its upcoming 4G LTE network at some point during 2014 and now we have a look at what that might entail from a coverage standpoint. A slide, leaked by Sacha Segan from PCWorld, has disclosed where Sprint intends to roll out its high-speed data network here in the United States. The slide comes from the carrier's keynote at a Rural Carriers Association meeting.
In the image below, the green indicates 4G LTE coverage. The areas that are covered in blue indicate places where the carrier will depend on roaming agreements.
Of course, Sprint has yet to roll out 4G LTE to a single market here in the United States so these plans could certainly change between now and then so if you're sitting in a blue area, no need to fret.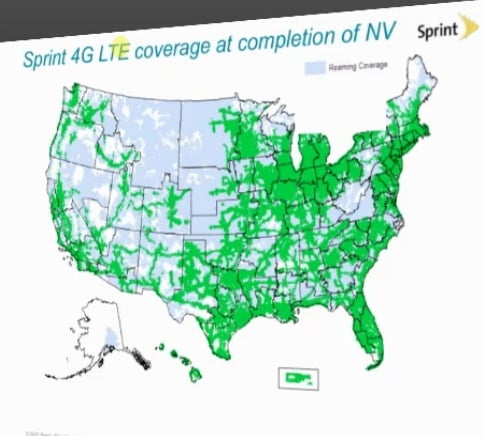 Yet.
Sprint is expected to roll out 4G LTE to its first markets before the middle of this year. The roll out is rumored to start taking place during the month of April as the carrier's first 4G LTE smartphone, the Galaxy Nexus, has been pegged with a April 15th release date.
In addition, the carrier will be announcing a new device with HTC on April 4th, and many believe it will be the HTC EVO One, another 4G LTE smartphone that will be the first EVO branded 4G LTE device.
Right now, Sprint is lagging behind both AT&T and Verizon, both of which have 4G LTE networks in place with Verizon's network available in over 200 markets across the U.S.

As an Amazon Associate I earn from qualifying purchases.