Sprint Accelerates Roadmap for Network Vision LTE Strategy
Speaking at the Sprint Open Solutions Conference in Santa Clara, CA, Sprint CEO Dan Hesse proclaims that the company is trying to simplify its business and business model. "We stand for simplicity and value," Hesse says to a room full of 1,500 developers in attendance. Part of that simplification is eliminating various rate plan options and continuing to offer unlimited data plans as a differentiating factor that sets Sprint apart from its competitors, but the bulk of that simplicity has to do with how the company plans on tackling its 2G, 3G, and 4G network as part of the recently announced Network Vision strategy.
As Sprint winds down its iDEN network, the carrier will have more freed up spectrum, which it will use to initially deploy an LTE network by next year and then move to LTE-Advanced to offer even faster speeds by 2013. According to Hesse, "This was supposed to have been a five-year plan," but the company has made such great progress on fulfilling its roadmap thus far that it is accelerating its vision to three years.
From a network architecture side, Sprint will be moving to multi-modal antennas that will allow the company to place multiple antennas of varying scope and capacity at each cell site. Right now, there are 2G cell sites, 3G cell sites, WiMax sites, and iDEN sites. Each of these cell site will offer varying coverage areas.
Sprint's move towards a multi-modal cell site will have each of these separate cell sites carry antennas that support all different frequencies that Sprint offers. In doing so, Sprint can combine its 2G, 3G, and 4G coverage map into one large map where it can offer augment coverage by essentially creating a unified 2G/3G/4G network. By consolidating and offering multi-modal sites, the company can offer a seamless experience where 2G, 3G, and 4G coverage overlap and are one in the same on any coverage map. Right now, there are lots of 3G and 4G dead spots, but a multi-modal cellular site structure can help Sprint improve coverage and offer value to customers.
So while Sprint's disparate networks, as a result of its acquisition of Nextel Corporation, supporting 2G, 3G, iDEN, and WiMax, may look like a headache today as those networks have different antennas, spectrums, radios, and coverage areas, these separate networks will be an asset to Sprint in terms of spectrum in the future as it migrates to LTE.
Because of these distinct networks and their accompanying spectrum, Sprint now has the spectrum to launch LTE on the 1900 MHz band starting in 2012. In 2013, will launch LTE and LTE-Advanced on the 800 and 1600 MHz spectrums. The lower spectrums, according to Hesse, will provide greater in-building penetration, allowing users to have strong signals and receptions in dense areas, inside houses and buildings. The higher spectrums will lend to better speeds. As LTE will be deployed in the 800, 1600, and 1900 MHz spectrums, Sprint can offer customers both great in-building coverage as well as speeds.
Sprint will continue to support WiMax over the next few years. In a presentation by a network executive earlier in the day, Sprint says that it hopes to cover 250 million people on LTE and 170 million people on WiMax for its combined 4G network by end of year 2013.
The carrier says that it is continuing to make investments into its 3G and 4G network. In 2012, it hopes to launch the first LTE device, but customers will either have to choose between a CDMA-WiMax phone, as is currently offered, or a CDMA-LTE phone implying that a tri-modal CDMA-WiMax-LTE device will not be offered.
When asked what types of devices we can expect in the future, Hesse declined to comment and give specifics for Sprint's roadmap, except to say that the carrier will "continue to support Android, iOS, RIM, and Windows."
So how is LTE a big move towards simplicity and value for customers? As I've mentioned earlier, Sprint's changes on the network side will provide for more ubiquitous 4G coverage by layering different antennas at the same cell site so that coverage overlaps with what's being offered on 3G today. Second, moving to LTE will allow Sprint to offer data speeds that are twice as fast as the network's current 4G WiMax speeds, which would open doors for more applications, uses, machine-to-machine and enterprise solutions, especially since Sprint is the sole major carrier to still offer a truly unlimited plan.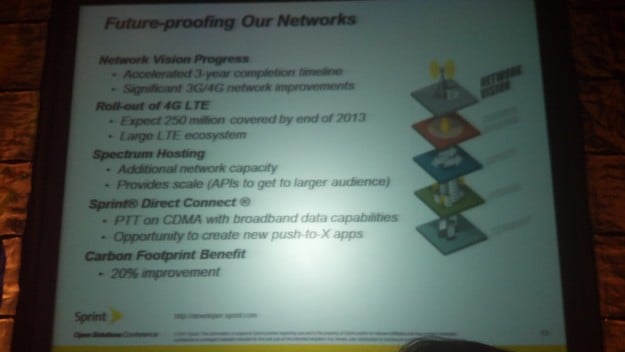 While speaking to Sprint's executives on the emerging  machine-to-machine space, I found out that the company is working closely with developers to ensure that the apps, devices, and innovations can be transitioned as needed to LTE in a cost effective way. However, unlike on the consumer side where there's a constant need for speed, the M2M space is more forgiving. Devices like asset trackers that are placed within a fleet of company-owned cars, for example, do not need 4G speeds and don't have to ping the network constantly so they can still be enabled on 2G or 3G networks.
But for the smartphone data hog, Sprint can soon appease your appetite for consumption with faster data speeds and more robust coverage.

As an Amazon Associate I earn from qualifying purchases.