Sprint announces 3 Android phones and Sprint ID
Sprint had plenty to talk about at CTIA this week. They announced 3 new Android powered phones and a new concept called Sprint ID. Sprint ID is an interesting approach to delivering content to Android phones on their network. They have some heavy hitters as partners already too.
What is Sprint ID?
Sprint ID allows users, on select Sprint devices, to quickly download ID packs that deliver a predefined experience, including applications, widgets, ringtones and wallpapers, all at once. Packs are designed to meet customers' interests – for instance, whether they are a sports fan, fitness fanatic or auto enthusiast. The packs could be brand-specific; allow users to easily switch between English or Spanish; or are specifically tailored to the customers' business or line of work. The marketplace of Sprint ID experiences is growing and customers can have one or up to five on their device, powered by the Now Network.

Initial Partners: Amazon, Blackboard, Comcast, Disney, E!, Electronic Arts, eBay, ESPN, Home Shopping Network, LatCel, MTV, Notre Dame, Oprah Winfrey Network, RadioShack, Weather Channel, Where and Yahoo!

Packs: Sprint customers can customize their device with up to five ID packs. Once an ID is loaded – easily in one quick step – users can easily switch between packs and further customize them with additional apps and content. A few non-partner-branded packs include:

Entertainment ID: Features a host of fun video, music, photo and news apps including Facebook, Celebrity Tweets, Pandora, Shazam, Rhapsody, E! Online and more.
Socially Connected: A customized experience for keeping users connected with friends on-the-go. Pack includes: Facebook, Yahoo! Mail, Gmail, Mashable, Tweetcaster, YouTube and more.
Health and Fitness: Features all the best wellness related resources for eating right, staying fit and tracking users' progress with the ability to customize to their specific interests and goals. Pack includes: Workout Coach, Fitness Tips, Calorie Counter, BMI Calculator and more.
Business Productivity: The perfect solution for busy professionals who want to stay connected, entertained and informed on-the-go. This pack features all the best tools to assist with travel plans, organization, communication and more.
This sounds like a pretty interesting concept, but what is wrong with just downloading these things individually from the Android Marketplace? Maybe I don't get it. Here are some videos from some of the partners announced.
https://www.youtube.com/watch?v=H8xhkivBv64
https://www.youtube.com/watch?v=ws0uXQ3OPa4
With Sprint ID, they also announced 3 Android phones: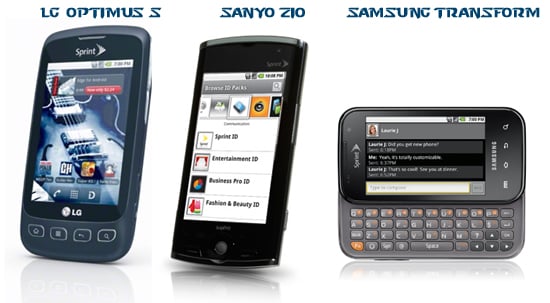 LG Optimus S
The LG Optimus S runs Android 2.2 and like the other 2 phones announced, it is designed to work with Sprint ID. It has a 3.2-inch capacitive screen,  3.2 megapixel camera, and a 1500 mAh battery. The storage memory can be increased with a MicroSD slot. The processor is a pretty small 600mhz processor. The LG Optimus can be purchased for $49.99 after $100 mail in rebate, with contract of course. It will be available on October 31st.
Sanyo Zio
The Zio is only 1/2 inch thick and pretty light at 3.7 ounces. The Sanyo Zio will ship with Android 2.1 too. It has a 3.5″ WVGA touch screen, a 3.2 megapixel camera, and a 1130 mAH battery. It's navigation is accomplished with a trackball. The price on this one is $99.00 with contract. (after a $100 mail-in-rebate)
Samsung Transform
The Transform is a designed for heavy text and email users. It has a 3.5-inch HVGA screen, a full slide-out QWERTY keyboard, a 3.2 megapixel camera with camcorder functions, and a front-facing camera for video conferencing.  The Samsung Transform will ship with Android 2.1 running on an 800mhz processor. It's only got 512 MB of internal storage, but has a MicroSD card slot that will support up to 32GB. The 3.5″ TFT screen is powered by a pretty nice sized 1500 mah battery. You can grab the Samsung Transform on Oct. 10 and the pricing will be $149.99 with a two-year service agreement. (after a $100 mail-in-rebate)
Overall, the 3 phones announced are low to mid-grade when compared to the Samsung Galaxy S and Motorola DROID lines, but they are making "smart phones" available to a wide range of consumers.  I've said it on Twitter before, Android is the new feature phone after this CTIA. I believe the quality devices that HTC, Samsung, and Motorola set a good standard for Android, but the offerings this year from AT&T and Sprint are lowering the bar a touch.

As an Amazon Associate I earn from qualifying purchases.