Sprint ATIV S Neo Windows Phone 8.1 Update Arrives
The Sprint Samsung ATIV S Neo is finally getting the Windows Phone 8.1 update that's been rolling out on devices running Microsoft's mobile operating system since earlier this year.
Sprint Samsung ATIV S Neo owners began getting the Windows Phone 8.1 update this morning, shortly after Sprint, America's third-largest wireless carrier, updated its website to reflect the new Windows Phone update. Ironically, Sprint says it started rolling out the Windows Phone 8.1 update to ATIV S Neo users on December 1st, roughly three days ago.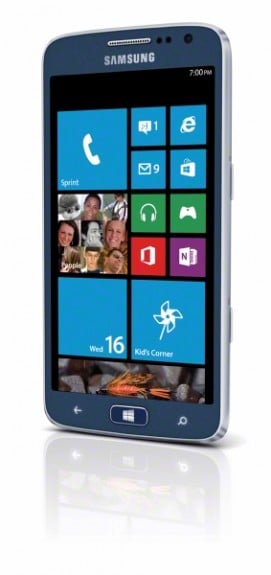 Sprint Samsung ATIV S Neo users can download the Windows Phone 8.1 Update from the Settings app on their device. That may or may not immediately have the download since Microsoft rolls out updates to Windows Phones in batches. The Samsung ATIV S Neo will automatically check for updates and ask users to install them when they're available. It's a very good idea to connect to Wi-Fi and plug the device in before starting the update.
Make no mistake, Sprint Samsung ATIV S Neo owners and potential buyers should be very excited to get this upgrade. Windows Phone 8.1 is practically responsible for bringing Windows Phone 8 devices into the modern age.
For years, Windows Phone owners have watched jealously as iPhone users were able to control settings and search for information using Siri, the iPhone's voice assistant. The Windows Phone 8.1 update brings Cortana to the Samsung ATIV S Neo. Cortana has a personality and will answer questions and make jokes when it's appropriate. She'll also take notes, change settings, search the web, and ask questions about locations and appointments when that's necessary. She also reminds users to leave for their appointments on time and alert them of changing flight information.
Personalization has never been something Windows Phone excelled at either. Microsoft added new tile sizes and colors, but that was it. Sprint ATIV S Neo users can finally assign a background photo following this update. Instead of sitting behind the live tiles, the tiles become transparent.
Read: Windows Phone 8.1 Review
The update is stuffed with little extras too. Xbox Music and Xbox Video have their own separate apps. Xbox Music Pass users can see the content in their Cloud Music Collection and add things to their Cloud Music Library. That's something they couldn't do before. Taking multiple pictures quickly is easier with the new Burst Mode option in the Camera app. Storage Sense makes it easier to see what's taking up space and move it to a MicroSD Card. Typing words is now as simple as moving your finger quickly around the keyboard, though users can still tap each letter if they'd like.
Above anything else the Action Center is why users should be the most excited about the Windows Phone 8.1 update. Live Tiles have surfaced notifications for years in Windows Phone, but Microsoft never offered a way for users to see notifications for apps that weren't pinned to the Start Screen. Swiping down from the top of the screen gives users access to Action Center. Action Center lets users see pending notifications and quickly access settings. Users can add their own favorite settings to the Action Center.
The Windows Phone 8.1 Update is already available on most Windows Phones already. Nokia Windows Phones have had the update for some time. The HTC One M8 for Windows includes the Windows Phone 8.1 update already. Devices on sale this holiday season – like the Lumia 830 on AT&T – already have it on-board too.
Just as Sprint was giving Samsun ATIV S Neo users something to rejoice about it seemed to be dealing a blow to the Windows Phone ecosystem as a whole. Its site no longer sells the Samsung ATIV S Neo or any other Windows Phones. That makes sense, the Samsung ATIV S Neo launched a year ago this past October. Presumably, the carrier doesn't have any more Windows Phones coming during the holiday season.

As an Amazon Associate I earn from qualifying purchases.