Sprint BlackBerry PlayBook Reportedly Delayed Again
While we had heard that Sprint's BlackBerry PlayBook would be launching on May 8th alongside the Motorola Xoom Wi-Fi and the Nexus S 4G. Unfortunately, it looks like May 8th isn't going to be the date that the PlayBook hits Sprint as new found evidence points to another delay.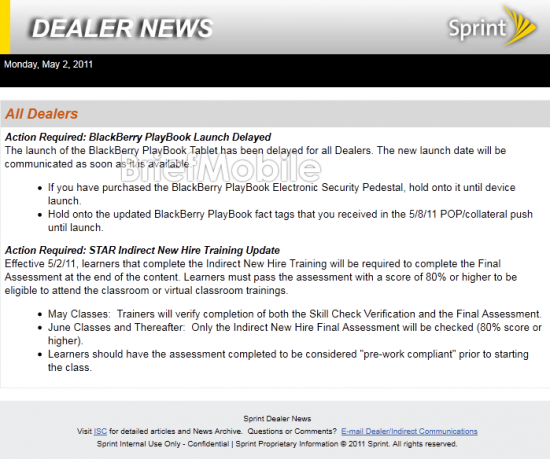 An internal document procured by BriefMobile indicates that the May 8th launch date has been scrapped and that dealers are to hold off from selling the devices until a later date. That date sadly is not mentioned in the document.
The company's had stated back in March that the PlayBook would become available sometime during the summer and there is no reason to suspect that the device will not make that launch window.
RIM's PlayBook has been in the news quite a bit lately with RIM showing off how Android apps will run on the device and Verizon unintentionally confirming that they will, in fact, be carrying the tablet at some point in the near future.