Sprint Debuts Motorola Admiral in YouTube Video to Lead PTT Charge
The yet to be announced Motorola Admiral Android smartphone is poised to take command of your business and personal life on the Now Network as Sprint had debuted the device on its YouTube channel. The smartphone, geared towards enterprise customers, may be among the first, if not the first, to leverage Sprint's new Direct Connect technology that will bring iDEN-like push-to-talk, or PTT, to the carrier's CDMA network as it begins phasing out iDEN, which was part of Sprint's Nextel acquisition.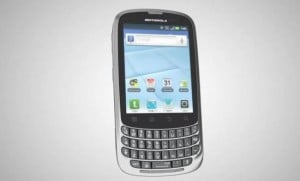 The YouTube video gives a pretty detailed overview of the hardware of the smartphone. Built with a front-facing QWERTY keyboard, the Motorola Admiral appears to be an evolution of Sprint's Motorola XPRT, a device that has similar design styling to the Motorola Droid Pro. The screen appears slightly larger at 3.1-inch, and prior leaks suggest that the display has a higher VGA resolution rather than the HVGA display found on the XPRT and Droid Pro.
https://youtu.be/Wwrf5GMAZWw
The Motorola Admiral will also feature a mute button at the top, a PTT button to connect to Sprint's Direct Connect CDMA network, and a dedicated camera button to activate the 5-megapixel rear camera.
The rear of the device features a tapered hump with a similar design to what we've seen on the Droid Bionic.
Via: Android Central

This article may contain affiliate links. Click here for more details.