Sprint Drops Epic 4G Touch Price by $100 With Galaxy S III Arrival
On the date of the Galaxy S III's launch on June 21st, U.S. wireless carrier Sprint will drop the price of its Galaxy S II smartphone, which is branded under the Epic 4G Touch name, by $100. On a two-year contract, the Samsung Galaxy S II Epic 4G Touch now costs just $99.
According to TechnoBuffalo, the price drop will happen on June 21.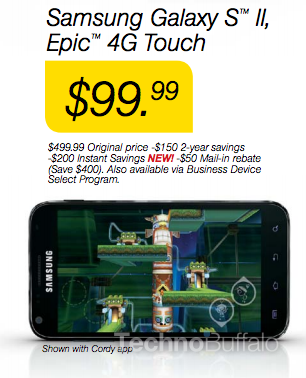 Aside from internal hardware variations between last generation's device and this year's Galaxy S III, the major difference on the network side is that the Epic 4G Touch relies on Sprint's older 4G WiMax technology while the Galaxy S III will function only on Sprint's next-generation LTE network. At this time, however, Sprint has not yet deployed LTE so users who adopt the Galaxy S III will have to wait until LTE becomes available in their area to take advantage of the new 4G speeds.
The drop in price will make the Galaxy S II Epic 4G Touch more competitive against its incoming newer sibling as the Galaxy S III will cost $199 on a two-year contract with 16 GB of internal memory while the 32 GB version will retail for $249 with a two-year service agreement.
The Galaxy S III will come with a higher resolution screen (720p HD), a more capable Qualcomm S4 dual-core CPU, and a larger display to name some of the few enhancements. The new phone will also support NFC, which will be good for use with Google Wallet as well as with Samsung's TecTiles accessories.