Sprint Express is an Inexpensive Mobile Broadband Hotspot for Sprint
Joining the MiFi from Novatel and Overdrive franchise from Sierra Wireless, Sprint is launching its own branded mobile hotspot router on its 3G/4G WiMax network in the form of the Sprint Express. The device was leaked before and was thought, at the time, to be a smartphone, but it is a compact mobile hotspot router that can connect up to 5 devices simultaneously over WiFi to the Sprint 3G CDMA/EV-DO or 4G WiMax network. The Sprint Express is available for $29.99 with a two-year data plan and contract.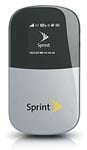 The Sprint Express has a microSD card slot to share files and documents and will come with a 2200 mAh removable battery that will provide up to 7 hours of battery life. Users can also plug the device directly into their notebooks or computers to tether over USB as well. A display on the device provides for quick access to signal strength, battery life, and network information.
The Sprint Express weighs 4.2 ounces and measures 4.3 X 2.4 X 0.66-inch.
The device could potentially be made by Huawei, which is breaking into the U.S. mobile market by providing carrier-branded offerings, like the T-Mobile Springboard tablet.
The Sprint Express will be able to tap into Sprint's newly unveiled mobile broadband data plans for data-only devices.
Via: Mobileburn