Sprint Force Leaked With LTE
It looks like Sprint may be launching a new Force Android smartphone by ZTE come March if a product sheet for the phone is accurate. The Force would be a Sprint-branded handset, which Engadget is postulating will be a re-branded version of the ZTE Force. While much of the handset's specs fall under the mid-range category, the pricing is affordable–with a two-year agreement–and the handset does support Sprint's growing 4G LTE network.
Expected to retail on March 1st for just under $50 with a two-year contract, the Sprint Force is rumored to come with Android 4.0 Ice Cream Sandwich, a dual-core 1.5 GHz processor, and a 4-inch display of unknown resolution. Likely, for the price point, you'll probably get a WVGA resolution display.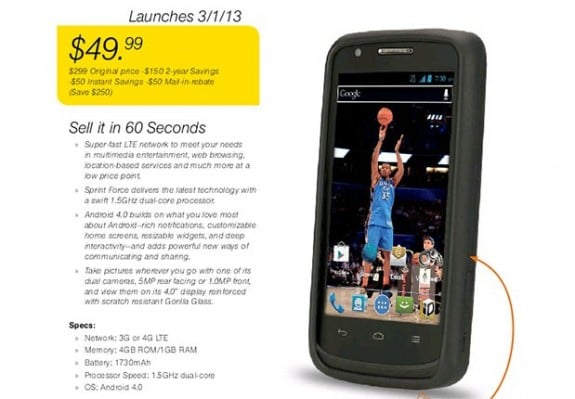 The phone will also have a 5-megapixel rear-facing camera along with a front-facing 1-megapixel camera. It will have 4 GB internal storage and 1 GB RAM.
This device will join the more high-end ZTE Flash on Sprint's Now network and will help ZTE further break into the North American market.
The phone was pictured in the training manual with a bumper or case on.
Though Sprint is still rolling out LTE, network speed under LTE is said to be very competitive. We haven't had the chance to test out LTE speeds yet in the San Francisco Bay Area as Sprint has not officially launched its network here, though there are reports that it has gone live in some parts of the city.
We'll have to wait for Sprint to formally announce the smartphone to confirm the specs.