Sprint HTC EVO Design 4G Review (Video)
The HTC EVO Design 4G goes back to basic black with a stunning design, great user experience through Android 2.3 Gingerbread and the latest HTC Sense 3.0. Priced at a modest $99 on a two-year contract, the EVO Design will not only compete for pocket space of those looking for mid-range smartphone, but also for those who may want to shed the bulk and weight of heavier flagships, like the HTC EVO 3D. Is it up to the task and can it handle the job? Find out in this review of Sprint's latest addition to the EVO family.
Hardware:
Design. The HTC EVO Design 4G marries the best of a compact form factor, something that we've seen on Sprint's rival Verizon's Droid Incredible family, along with some nice upgrades, including a 4G radio and a high resolution qHD display in a 4-inch package. The device takes upon an unassuming look dressed in all black, but in the hands, HTC's unibody aluminum construction shines through as users will take note of a solid build quality and a package size that feels comfortable in the hands to use thanks in part to its smaller 4-inch display as opposed to larger 4.3-inch screens on many of today's high-end phones.
The unibody aluminum design surrounds the top half of the phone and holds the strengthened glass screen in place. The construction wraps around to the center back, which bears the HTC logo on it. On the front, you have a high resolution 960 X 540-pixel display that takes much of the front surface. Up top are the proximity and ambient light sensor. Closer to the top edge of the screen, you have space for the earpiece speaker, which also discretely hides an LED notification light that will blink if you have any new incoming messages or alerts. To the right of the earpiece speaker is a front-facing camera for video chat or self-portraits.
On the top of the phone, you have a 3.5 mm headphone jack, a noise cancellation microphone, as well as a power button.
On the right hand side, you'll notice a clean edge that's only interrupted by where the plastic back pieces meet the unibody aluminum construction.
Only a single microphone graces the bottom of the phone.
On the left hand side, you have the volumes up and down buttons, along with the micro USB charge and sync port.
On the top back side of the device, an unassuming 5-megapixel camera with LED flash protrudes out slightly, but doesn't draw attention to itself unlike the circular camera pods on some other HTC phones, like the HTC Inspire 4G on AT&T, HTC EVO 4G for Sprint, or the HTC Thunderbolt for Verizon Wireless. The camera module here melts into the soft-touch rubberized coating, which is divided only by the unibody aluminum strip that runs across the center back of the phone.
The bottom back portion is removable by gripping the sides and pulling downward. Once that portion is removed, users will have access to a SIM card slot–this is a world phone and will work on Sprint's CDMA/EV-DO and WiMax network domestically as well as GSM/EDGE/UMTS/HSPA networks overseas–battery, and microSD card. An 8 GB microSD card is pre-installed, though users can swap out the 8 GB card for a higher capacity card; up to 32 GB is supported via expansion memory.
Display. You'll notice right away that HTC's implementation of qHD is quite stunning, and when you squeeze the same 960 X 540 pixels that's on the EVO 3D's larger 4.3-inch display to a smaller 4-inch footprint, you'll notice that the screen looks even more vivid and sharp thanks to a higher pixel density.
HTC is advertising the display as being a Super LCD panel, meaning it will be bright and produce vibrant, color-accurate colors that are not over-saturated like on AMOLED-based panels, and will look great both indoors and outdoors under direct sunlight. The Super LCD panel also provides for great viewing angles so you don't have to look at the screen head-on.
Under the Hood. Under the hood, what makes the HTC EVO Design 4G a mid-range device is its single-core 1.2 GHz Qualcomm Snapdragon S2 processor. Lacking the dual-core 1.2 GHz Snapdragon CPU of its bigger brother, the flagship HTC EVO 3D on Sprint's Now Network, the HTC EVO Design 4G also comes with 4 GB of internal storage in addition to the pre-installed 8 GB microSD card, and about 768 MB of RAM for multi-tasking–which is slightly less than the 1 GB of RAM on some higher-end devices like Sprint's own Motorola Photon 4G. However, despite all these hardware 'shortcomings'–if you can even call it that–the HTC EVO Design 4G keeps pace with the big leagues.
The device is robust and in daily use, you won't see any lags or slow downs. The occasional slow down in performance that I've noticed comes from the Internet browser on the phone, even when Adobe Flash is turned off, but that's more of an Android thing than an HTC thing and happens on phones across all manufacturers. When you stack the phone up against performance benchmark metrics, the HTC EVO Design 4G will show, on paper, that it will not perform as well as Sprint's big boys, which includes the HTC EVO 3D, Motorola Photon 4G, and Samsung Galaxy S II Epic 4G Touch. However, in real world performance, even the most demanding games will feel fine on the EVO Design 4G and the phone packs in a lot of punch and pizzazz despite its smaller stature and single-core CPU. Looks can be deceiving, and as Apple has shown in the post-PC era, it's all about utilizing software to create the optimal user experience, and HTC has done it here as well with a powerful implementation of HTC Sense that runs smoothly on more modest specs.
Fit, Finish, and Feel. While the HTC EVO Design 4G may look unassuming–and somewhat bland–as it's just a black slab, HTC had done its ergonomics homework as the phone feels amazing once you hold it in your hands. The unibody construction gives the device a premium feel, and the plastic portions on the top and bottom portion on the rear of the phone not only helps to make the device easier to grip to prevent the phone from accidentally slipping out of your hands, it also helps with reception.
The overall feel of the phone reminds me a lot of how the Nokia Lumia 800 or the MeeGo-powered Nokia N9 feels in my hands. With a minimalist design that doesn't detract from comfort, the EVO Design 4G felt like it was made for my hands, fitting the curves of my medium-sized hands comfortably.
Multimedia:
Music & Video Playback. The HTC EVO Design 4G comes with a great music player from HTC, though it's not as full featured as the Motorola implementation on the recently reviewed Motorola Atrix 2 for AT&T. The HTC EVO Design 4G has options for equalizer settings when music is played through earphones or through an attached speakers. Through its own loud speaker, the music player also has an SRS toggle setting to give a fuller sound. Audio quality was loud enough for me. The phone can support a variety of video formats using the built-in video player, and users can also stream content, such as Amazon's streaming video library, utilizing the browser and Adobe Flash 11. The device also has an FM tuner–to listen to local FM radio, you'll need to plug in your own earphones.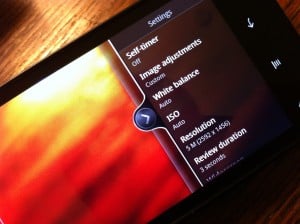 Camera. Camera performance is on-par with the hardware that's featured on the phone, and thanks to HTC Sense and the camera customizations, the camera UI outclasses the stock camera app on stock Android devices like the Nexus smartphones. HTC has provided a number of user-customizable settings for the camera, such as for ISO and white balance, as well as options for a variety of scenes and effects. All these settings and effects are easily accessible via a few taps–either on screen or through activation of the menu capacitive touch Android navigation button–but don't clutter or overwhelm the camera's UI.
Images captured with the 5-megapixel camera appear sharp, but sometimes you can see that camera's built-in software had tried to over-sharpen the edges leaving un-natural looking images if zoomed in or blown up. That said, the auto adjustments made the camera were most often helpful and help to make sharper images most of the time.
Camera shutter speed and focus was fast and snappy, allowing users the capability to take consecutive pictures in rapid succession.  The downside is that with a decent camera, this phone lacks a dedicated camera shutter button, which is a departure from the original HTC EVO 4G and the new HTC EVO 3D.
While the camera does support tap to focus, that feature emits a loud mechanical focus sound that you cannot turn off unless the phone itself is muted. The feature may make it distracting to use the device as focus in a conference room.
Video camera. The camera on the HTC EVO Design 4G can record videos in 720p HD at 30 frames per second, which is on par with the video capture capabilities of the EVO 3D. Unlike the EVO 3D, this one can only do 2D video.
Sample Camera Images:
Software:
Android 2.3. The HTC EVO Design 4G benefits from the Android 2.3 operating system in that it will support Adobe Flash 11 in the browser, utilize its front-facing camera for video chats through apps like Google Talk and Skype, and provide users with a plethora of applications through Android Market or third-party app stores like Amazon's AppStore for Android. Users will have the benefit of the Android ecosystem and both Sprint and HTC have committed to upgrading the OS to Android 4.0 Ice Cream Sandwich, though neither companies have given a specific timeline for the OS upgrade.
HTC Sense. The version of the HTC Sense user interface is the same as what we've seen shown before on the HTC EVO 3D. While not the newer Sense 3.5 UI on the HTC Rhyme (code named Bliss) for Verizon, Sense 3.0 adds enough utility and eye candy to create a coherent Android feeling, giving users the ability to add customized Sense widgets, add Sense ringtones and wallpapers, and features some HTC created apps. Additionally, as HTC rolls out new Sense capabilities, there's an HTC portal app on the phone where users can download additional packs and customizations to take the personalization further.
Most notable about Sense is the lock screen. Rather than merely sliding to unlock the phone as is on typical Android handsets, HTC Sense UI allows users to place four quick shortcuts on the bottom of the lock screen. That way, when a user drags one of those shortcuts into the magnifying loop, Sense will quickly launch the app from the lock screen.
The home screen now features a carousel interface where you can page and cycle through all seven different home screens without end. That means you can quickly jump from the last home screen to the first home screen without having to go backwards. Additionally, HTC's widgets help to add some flavor and retain the Sense look and feel. Those widgets include a calendar widget, bookmark widgets for the browser, a Friend Stream widget that aggregates your social network updates, and more.
In the contacts hub, the nice thing about Sense is that it creates a nice communications system. For instance, if you open up a contact name, not only do you get the standard Twitter and Facebook integration to see the last message(s) that a person had posted to their social network account, but you also have some nice options that make the device a nice communications hub. On the bottom, you'll nice a bar, and swiping your finger over the various options will show you, for example, all your SMSes that were exchanged with this contact, all your email communications, their photo albums if any on Facebook, and the latest call log information. This way, you know if you're overdue for a call to…say…your mother, if you haven't spoken to her in a while.
The email application is another nice example of how HTC integrates communications together. Unfortunately, though, Gmail accounts that are setup through the HTC Email app are routed through either POP or IMAP protocols–no push email for Gmail here unless you specify it as an Exchange ActiveSync account–but it does support a wide array of email providers. The nice thing is that like the contacts app, there is a bottom bar or carousel that you can scroll through to show all your emails, emails in conversation view, by unread emails, or by those with flags. This way, it's easy to triage your emails so that you're not cluttered by an entire list of flagged, unflagged, read, and unread emails.
Apps. As with most Sprint phones, this one comes pre-bundled with a number of apps and carrier apps, though they are minimal and some are useful. In addition to Google Maps with Navigation, you do have access to a basic subscription of TeleNav GPS Navigator with your Sprint service plan. Other apps include Sprint Music Plus for downloading music and billing MP3 purchases to your Sprint phone bill, Sprint TV & Movies for on-demand videos and some live stations, Sprint Zone where you can check your account, and Sprint Mobile Hotspot (requires a plan add-on) for Internet sharing and tethering. The good thing is that most of the optional apps are not pre-installed on the phone–just their shortcut icons–and users will have to download and install the software itself if they launch the shortcut. The bad news is that the shortcuts are there, whether you want them or not, and only a few of them are removable.
Network, Call Quality, Battery Life:
Download Speeds. With Sprint's WiMax network, users can achieve between 3-6 Mbps for download speeds and between 1-2 Mbps on the upload side. In real world usage, I find that download speeds between 2-4 Mbps were the norm in San Francisco, California and 1-1.5 Mbps on the upload side, which is less than what Verizon Wireless is promising for LTE and is about on par with AT&T's 4G HSPA+ network. On Sprint's CDMA 3G network, I get about 1-1.5 Mbps on the download side.
Call Quality. Call quality is above average, but not excellent with the HTC EVO Design 4G. Callers on the other end of the line noticed that the there was a small hallow hiss on the line, but the call still sounded good. On our end, the HTC EVO Design 4G was good, both through the loud speaker and the earpiece speaker. Some users have complained that the loud speaker could be louder, but I found the volume level to be acceptable. Thanks in part to the plastic pieces on the back, the phone was able to achieve good signal strength.
World Phone. The HTC Design 4G is a world phone and is Sprint's second 4G world phone following the introduction of the Motorola Photon 4G this summer. That means that domestically, you can use CDMA, EVDO, and WiMax on the Now Network for 2G, 3G, and 4G modes. While on 4G, users will also have the capability of simultaneous voice and data where data can be routed over WiMax and calls can be directed through Sprint's CDMA radio. Internationally, Sprint gives users the option to hop onto a GSM network thanks to a standard-sized SIM and a GSM/EDGE/UMTS/HSPA radio. That means that users on a 3G UMTS/HSPA GSM radio will also have simultaneous voice and data capabilities while roaming abroad.
The benefit of a world phone is that you can pop in a local SIM card just pay local toll charges while overseas rather than costly international roaming rates. Most Sprint phones come SIM-unlocked, and you should check with customer service to ensure that your SIM is unlocked if you intend on bringing your phone with you for international travel.
Battery Life. Battery life for the phone is slightly above average, and could be better. On more battery conservative 3G mode, I can squeeze anywhere between 8-12 hours on the more meager 1520 mAh battery with moderate web browsing, push emails from two accounts (one Gmail account and another Microsoft Exchange ActiveSync account), a few text messages and a few phone calls. On 4G, with video watching or Flash on the browser, you can expect to garner anywhere between 6-10 hours with average user. Though you can most likely last a full work day, I'd suggest carrying around either a spare battery–the device does have a user-serviceable battery–or a car or desk charger.
The features that will utilize the most juice will be the higher resolution qHD Super LCD display, the 4G WiMax radio, and processor-intensive tasks, such as video watching, Flash rendering, or capturing videos and photos using the rear 5-megapixel/720p HD camera sensor.
Performance:
As I've mentioned throughout the review, this phone has a high overall user experience thanks to the HTC Sense UI. Beginners and moderate users will feel a certain level of polish over stock Android as the HTC Sense UI layer makes the whole system feel more finished and coherent. Advanced users will probably loathe the fact that you cannot remove HTC Sense and that it is far more integrated than Motorola's interface. That said, despite the heavy Sense integration, the single core CPU performs admirably well.
Loading apps, going through webpages, launching and switching between different apps, playing back videos and music, and streaming content did not slow down the processor in daily tasks, and neither did playing some more CPU/GPU intensive games. In fact, if I didn't know the phone had a single core CPU, I'd be hard pressed to believe that it wasn't a flagship phone and that it's just a mid-range offering. In real life performance, EVO Design 4G kept pace with its bigger brothers, the Samsung Galaxy S II Epic Touch 4G, the HTC EVO 3D, and the Motorola Photon 4G.
When you look at performance benchmarks though, the HTC EVO Design 4G won't perform as well as dual-core models, and it will show. However, looks on paper can be deceiving.
Conclusion:
Interestingly, the HTC EVO Design 4G is the spiritual successor to the HTC Hero on Sprint launched a few years ago. Today, it seems that Sprint and HTC are trying to build and further the EVO branding for the carrier's Android handset, much like what rivals Verizon and Motorola are doing with the Droid franchise, and the EVO Design 4G sheds its Hero moniker to join the EVO family. The lines are also blurred between high-end and mid-range with the EVO 3D and the EVO Design 4G. The EVO Design 4G bests its bigger brother with a more solid, premium build quality consisting of a better finish, unibody aluminum construction, and a higher pixel density thanks to a display of the same high resolution though squeezed into a slightly more compact display.
It's hard to believe that just a year ago, the EVO Design 4G would have been king of the smartphone crop. If the device was released last year, it's single core 1.2 GHz Snapdragon S2 processor would have beaten the HTC EVO 4G's single core 1.0 GHz CPU. Today, though, it must compete not only against the best of the midrange handsets, but also must stand its ground against dual-core offerings, and it does so with pizzazz thanks to a capable HTC Sense UI and overall responsiveness delivered through tight software optimization and hardware integration.
The HTC EVO Design 4G is a compelling device given that it possesses many high-end features for its value at just $99 on contract. As looks can be deceiving on paper, I'd suggest anyone who may dismiss the HTC EVO Design 4G as a worthy contender for the powerhouse to visit a Sprint store to play with one. You may be pleasantly surprised and swayed towards it more compact package and unibody construction and realize that the phone can actually play in the big leagues.
Final Rating: 8.5/10

As an Amazon Associate I earn from qualifying purchases.