Sprint iPhone 4S on Sale in Prep for iPhone 5 Release
Sprint cut the price of the iPhone 4S to $149.99 with a two-year contract as part of a new special that runs through September 14th, two days after Apple's rumored iPhone 5 launch event.
All Sprint iPhone 4S models are part of the deal, which cuts the 32GB iPhone 4S to $249 and the 64GB iPhone 4S to $349. The deal also waives activation for the iPhone 4S, another $36 in savings.
This sounds like an amazing deal, but it's not all that and a bag of unlimited data.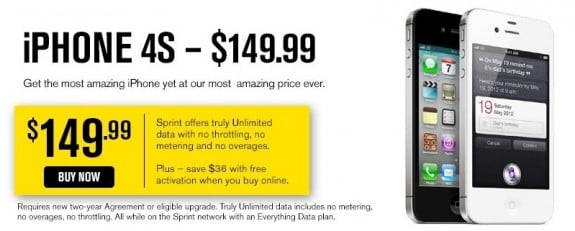 On September 12th, Apple is likely to announce the iPhone 5, with an iPhone 5 release date in late September. When Apple announces the new iPhone, we expect price cuts on the rest of the iPhone line.
If all goes as planned, the iPhone 4S will see a $100 price cut on September 12th, dropping the starting price to $99. The iPhone 4 will likely become a free iPhone, like the iPhone 3GS currently is on AT&T.
Price cuts on iPhones and iPads are expected in the weeks leading up to the iPhone 5 release date, as retailers try to sell remaining stock for as much as possible. Given the large buy in Sprint agreed to in order to carry the iPhone, there may be plenty of stock on hand.
Read: Should I Buy the iPhone 4S or Wait for the iPhone 5?
Rumors point to a taller and thinner iPhone 5 with a 4-inch display and faster 4G LTE connectivity launching on Friday September 21st on Verizon, Sprint and AT&T. The iPhone 5 should start at $199 for the 16GB model.
The iPhone 5 may look like the images shown in the video above. Leaks suggest Apple is sticking with the same design language for the iPhone 5, but Apple could surprise us with an unseen iPhone design come September 12th.