Sprint LG G Flex: Hands-On with its Unique Curves
The G Flex is finally here in the US, a bendable and curved smartphone from LG, and it's about to launch on three of the four major carriers within the first few weeks of February.
Today we're taking a look at the Sprint LG G Flex, but the device will also be available with AT&T and T-Mobile for those looking for other options. Bringing to market the first fully curved and actually somewhat flexible smartphone to the US, LG's G Flex has a lot to offer, especially when it comes to that 6-inch display. Below is our initial thoughts and a quick hands-on and unboxing of the new smartphone.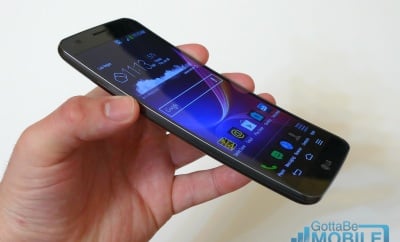 Along with a curved P-OLED (P for plastic) 1280 x 720p HD display that's 6-inches in size, the device has a unique design with the buttons on the back, an infrared sensor for remote capabilities, and one of the best cameras on an Android device. It's a feature-packed device, so read on to see our initial thoughts.
This is my first time with the LG G Flex after briefly getting eyes on it at CES, and now that it's actually in my hands I have a better idea of what LG is trying to accomplish. Well, with regards to this device of course. The G Flex 6-inch screen is curved, covered in plastic so may not be extremely durable compared to Glass, but they claim the plastic is more durable and of course can bend. It's more of a showcase for the technology which will be in future devices, rather than an actual flagship device. It's packed to the brim with specs and features, but has a few downsides.
To go over the specs we have 6-inches on the screen with only a 720p HD display, so no 1080p here, however that should substantially help with battery life. Yet the G Flex has a massive 3,500 mAh curved battery (another first for LG) which should last for at least 24-48 hours, especially without a 1080p display draining the juice. The 2.26 GHz quad-core processor should be plenty fast for multitasking, apps, and games, and it comes with 2GB of RAM and 32GB of storage to help out. Sadly there's no micro-SD slot to increase storage, and the battery isn't removable like most Samsung devices.
Read: LG G Flex Really Does Self-Heal
Overall it actually feels rather nice in the hand. The same 5.9-inch size on the HTC One Max felt massive, was ridiculously heavy, and just wasn't comfortable. The G Flex on the other hand, is something that could realistically be in my pocket. However, you'll want to head to your carrier of choice and make sure a device of this sheer size is your cup of tea, which is why the video above compared it to a 4.7 and 5-inch smartphone in the Moto X and Galaxy S4.
We have 4G LTE and Sprint's new "Spark" tri-band LTE technology for faster data speeds, but the spinning Spark logo up top is extremely irritating and distracting, and hopefully Sprint changes that in the very near future. I may be nitpicking, but it's rather bothersome. Imagine that massive sun-shaped logo below spinning full speed in your sight while trying to read a text or write an email. Yeah, no good.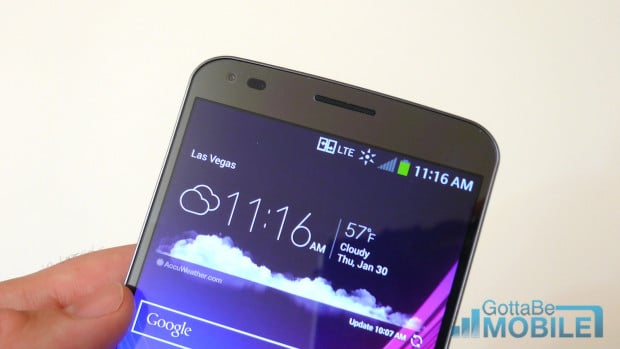 The only real downside here is Android 4.2.2 Jelly Bean is obviously multiple updates behind almost every other device on the market. LG's known for taking its sweet time with updates, and hopefully that will soon change. There's no Android 4.3 or even 4.4 KitKat, but we're hearing an update is coming sometime in Q2.
The second downside is the 6-inch screen is only 720p, so pixels are visible and the display isn't as crisp as the Note 2, Note 3, LG G2, and many other flagship devices available today. Again, this is the first curved device from LG, and the next will likely be 1080p HD or higher. It's a work in progress.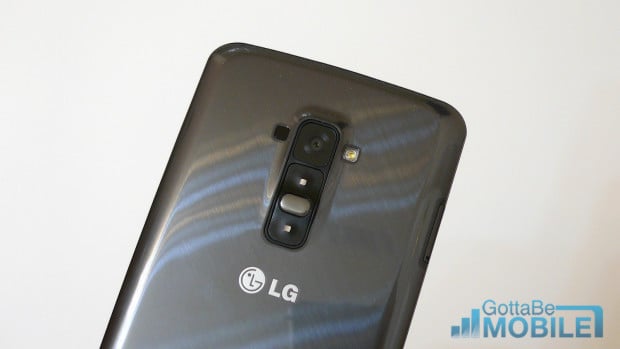 I keep forgetting the buttons are on the rear, and not the side, but that's something any customer will quickly get used to and it won't be a deal breaker, but it's still confusing. The curve is comfortable in pants, easier to hold, makes viewing videos nice, and fits great around your face while on a call. Then again, you'll get looks from strangers with a huge 6-inch phone up to your head.
We'll be digging into the aging Android 4.2 software, the curved display and self-healing design on the rear, and Sprint Spark in the near future in a full review.