Sprint Novatel MiFi 500 LTE Mobile Hotspot Review
Novatel Wireless' MiFi 500 LTE for Sprint Corp.'s 4G LTE and 3G CDMA/EV-DO networks is a powerful device with a lot of flexibility, but one whose full potential is not quite realized yet given Sprint's more limited 4G LTE footprint. At its heart, the MiFi 500 LTE doesn't deviate from Novatel's successful strategy with its trademarked MiFi franchise. The device connects on to Sprint's mobile broadband network, and then broadcasts the 3G or 4G connectivity out over WiFi to up to 10 other WiFi-enabled devices so you can connect smart cameras, smartphones, tablets, PCs, and notebooks to the MiFi 500 when you're on the go rather than searching for a free public hotspot or paying a per device connectivity fee when you're out on a business trip with colleagues.
The major downside right now is that while the connectivity options are robust thanks to Sprint's new tri-band LTE Network Vision strategy, Sprint's 4G LTE coverage area is more limited and defaulting to a 3G connection would yield painfully slow speeds.
The MiFi 500 itself is an industrial, if not masculine looking, device. Coated on top with piano black glossy finish and finished on the sides and back with a soft touch rubberized coat of dark grey paint, the MiFi 500 is a sturdy device with a blocky rectangular form that's portable yet brick-like in appearance. But it's a pretty ergonomical brick with control buttons and a display laid out on top so you have quick access to many of the device's menus.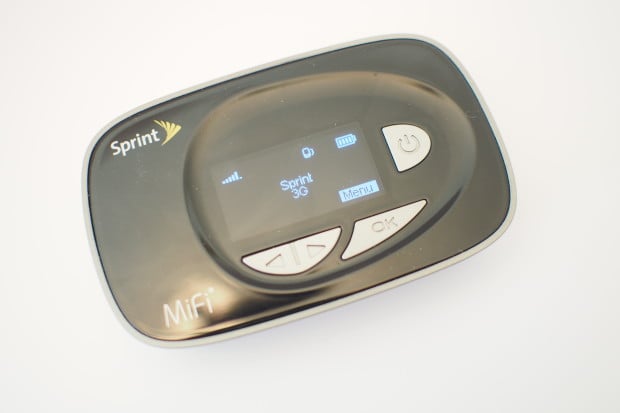 You won't find a touchscreen here, and instead a monochromatic OLED panel graces the top, giving you access to your MiFi's SSID name, password, administrative settings, and various options. A power button sits to the right of the screen and toggles the screen on and off while underneath the display, you have navigational arrow keys, and an OK button that doubles as a menu/selector key. In fact, the button layout reminds me of the BlackBerry pagers of yore.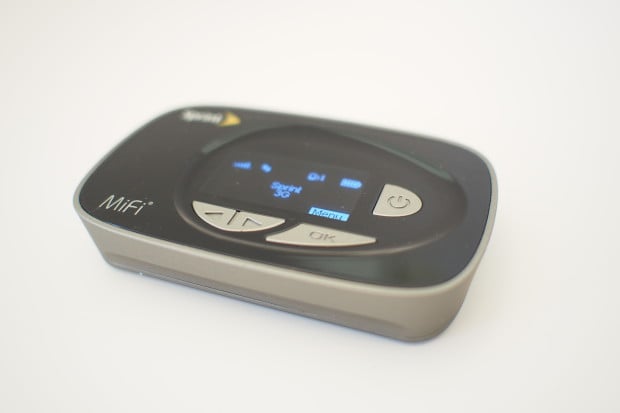 Navigating through the menu is simple, if not intuitive, though the limited buttons meant lots of scrolling through menus. Once you enter a sub-menu, you'll have to scroll through all the different pages of the menu before you're given the option of exiting said sub-menu. It's not a big deal, but does take a few clicks and could be a nuissance. On the top side of the device, the only port opening is a micro USB port, which allows you to either plug the MiFi into a wall outlet, or connect the device to a computer. When you do plug the MiFi into your PC, you can use the MiFi as an Ethernet modem over a USB connection.
Underneath the device, a small latch releases the rear battery cover and you'll have access to an 1800mAh battery, providing roughly between 7 and 10 hours of battery life depending on how you use the device. If you stream videos or download large files continuously, you'll head towards the low end of the spectrum as you would if you also tether more devices to share the MiFi 500's mobile broadband connection. If you view web pages and check emails, you'll likely head closer to the 10-hour mark.
Under the battery, you'll have access to a micro SIM card slot. This SIM card, unlike many of Sprint's prior 4G LTE devices, is actually provisioned to work with Sprint's 4G LTE and 3G networks, meaning you'll need the SIM to be activated and in the device for it to work. The SIM doesn't provide for GSM roaming on this MiFi 500 unit so you cannot use this device on a GSM network when traveling internationally.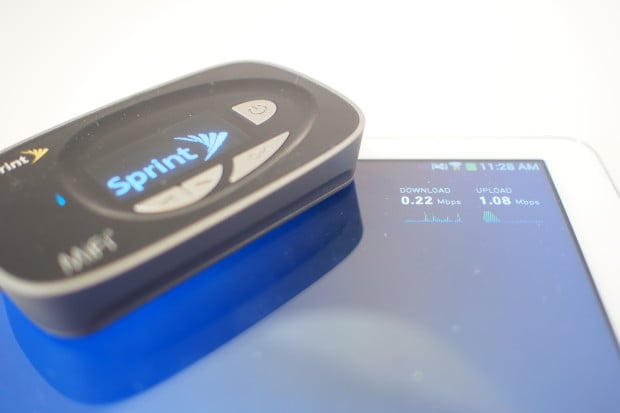 In use when connected to Sprint's 4G LTE network, data speeds were great, but not the best we've seen on a mobile network. I tested the MiFi 500 LTE in San Jose, California, a market where Sprint is still building out its LTE network but hasn't officially announced LTE availability. As such, I was able to tap into LTE when I am upstairs in my home, but not downstairs where I usually work. Downstairs, the MiFi 500 fell back to 3G speeds.
With 1 bar of LTE reception upstairs, data speeds hovered between 3 and 6 Mbps on the downlink side and was about 1-3 Mbps on the uplink side. This should provide great speeds when you're connecting a few WiFi devices, but the speeds may suffer a little if you're connecting more than 3 devices. Still, these speeds aren't indicative yet of what real world performance would be once the network becomes officially available and more widely deployed in San Jose, especially with reception of greater than 1 bar of coverage on the device.
On 3G, speeds were more painful with speeds averaging between 0.5 to 1.5 Mbps download and under 1 Mbps upload. With those speeds, you'll be able to surf the web okay and get emails done, but you wouldn't want to stream any HD videos. And though you can control many of the basic settings on device itself, including updating the firmware directly on the MiFi 500 without having to do it with a PC, deeper settings are also available for more advanced users using the MiFi's web interface.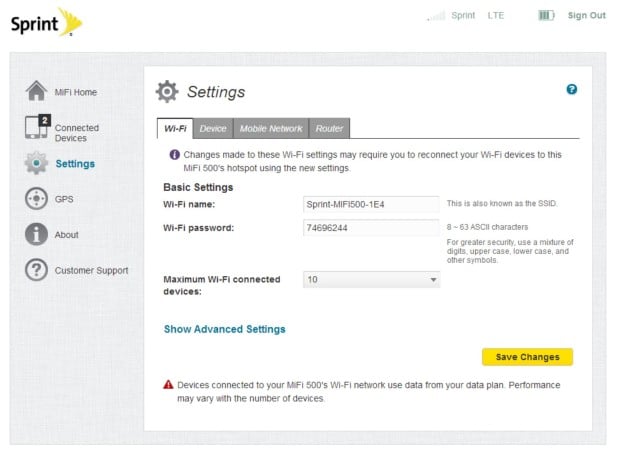 To access these settings, on a PC or tablet, type in https://192.168.1.1 in your browser, and when prompted, the default administrative password is "admin". From the web interface, you can change your port forwarding, SSID name, network passwork, and a host of other settings, including limiting the number of devices that can connect to your MiFi.
And though the MiFi 500 is a rather thick device–it comes in at roughly three times the thickness of my Galaxy Note 10.1 2014 Edition tablet (reviewed), it actually looks a lot heftier than it feels. The device is still lightweight and can slip into a bag, pocket, or purse easily. We wish the size wasn't as bulky, but that was likely to accommodate Sprint's slew of antennas and radio to support the new tri-mode LTE connection that Sprint is enabling on its network towers.
With tri-mode LTE, unlike with rival carriers Verizon Wireless and AT&T Mobility, Sprint Corp. will be using three bands or frequencies for its LTE deployment. This will give the carrier more flexibility on how to route your data call based on network conditions, your geographical proximity to a cell tower, the application you're using data for, how congested the network is at the moment, if you're indoors or outdoors, and other factors. With three bands for LTE connectivity, Sprint can alleviate traffic and congestion by routing you to the best band at any given time, and the MiFi 500 LTE is one of the first devices from Sprint that can handle this intelligent traffic routing.
In theory, this should guarantee you the best possible speeds on Sprint's LTE network.
The MiFi 500 is an excellent, albeit chunky, mobile hotspot that doesn't deviate from Novatel Wireless' proven strategy in crafting portable modems with great controls. For now, though, Sprint, and parent company Softbank, will need to build out its LTE network for MiFi 500 LTE users to get the most out of their new devices.