Sprint Offers Galaxy S4 BOGO for Back-to-School
In the old days, back-to-school meant shopping for binders, folders, and pens and pencils, but Sprint is looking to modernize the list with an offer for smartphone savings. On the list this year is a buy one, get one free offer for one of the year's hottest smartphones: Samsung's Galaxy S4. The carrier says that if you buy one phone for $199.99, on contract of course, you get a second one free, which you'll also need a contract for.
https://youtu.be/ERYbR4ogYM8
The deal is good from now until August 15th, so you do have a few weeks to decide if you want to hop on the Now Network. Though its LTE footprint is still small right now, Sprint promises to offer a guaranteed lifetime of truly unlimited data with the new Unlimited, My Way plans.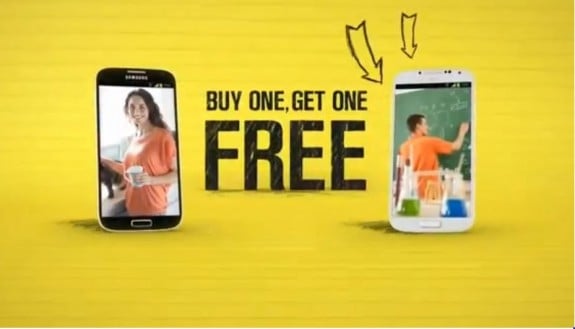 The Galaxy S4, though a wildly popular Android phone this year, faces competition from handsets that are already released or will be coming to market over the next few months. It is competing in the same flagship space as the Apple iPhone 5 and soon to launch iPhone 5S this fall, the HTC One with its popular aluminum construction, the Sony Xperia Z with its slim and waterproof body on T-Mobile, the waterproof Galaxy S4 Active on AT&T with similar specs, and the new camera-centric Nokia Lumia 1020. The device will soon be joined by a larger Galaxy Note 3 phablet launching this fall, a new Sony Honami smartphone, and an LG G2 along with the new Droid Maxx and Ultra on Verizon.

As an Amazon Associate I earn from qualifying purchases.