Sprint Refusing to Let Customers Cancel HTC EVO 4G LTE Pre-Orders?
It appears that Sprint is making things difficult for those that are trying to cancel their HTC EVO 4G LTE pre-orders.
Earlier, we told you that Sprint finally confirmed that the release of the upcoming HTC EVO 4G LTE had been delayed and that it did not know when the device would become available in the United States. In that confirmation, the carrier also stated that while it didn't want people to cancel pre-orders, customers did have that option.
It then outlined the steps that it would take to accomplish that.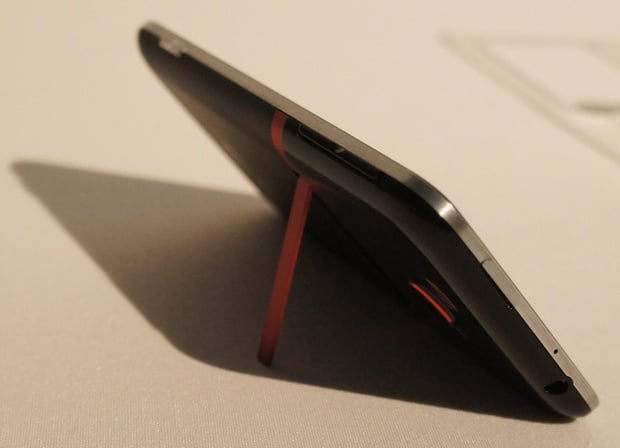 Sprint had this to say earlier today:
HTC EVO 4G LTE availability
The U.S. availability of the HTC EVO 4G LTE has been delayed.  HTC is working to resolve this issue and appreciates your patience as they work to get products into Sprint channels. We can't provide specific timing for product availability at this time and we appreciate your patience as HTC works to get products on store shelves as soon as possible.
Pre-order status/availability
Delivery of products for pre-order are on hold and Sprint will provide a ship date as soon as possible. Sprint will maintain the promise for the preorder customers that they will be among the first to receive their HTC EVO 4G LTE units.

While we'd rather you didn't cancel your pre-order, there are instructions provided in the backorder email on how to do so.  I've pasted them here for your reference:

If you would like to select an alternate product or cancel your backordered item, please call 866-789-8292 between 8:00 a.m. EST to 11:00 p.m. EST Monday to Friday or 9:00 a.m. EST to 9:00 p.m. EST on Saturdays and Sundays.Please note that cancellation requests may not always process successfully due to the speed of warehouse processing.If you cancelled your backordered item but still received a shipment, please refuse the shipment or call us to process a return within 14 days of receipt.
However, comments from readers seem to show that canceling a pre-order is far more difficult than Sprint would have it seem.
We have received numerous comments from frustrated HTC EVO 4G LTE pre-orderers who all are having the same issue trying to cancel their order.
They can't.
In fact, one user, Tim Donohue, has tried to cancel his order six times since yesterday and he has been unsuccessful each time.
He says:
cancelling a pre-order doesn't work. i've tried 6 times since yesterday, and i get the same run around every time. "somehow", they managed to process my order hours before it became known that the phone was delayed. now they act as if their hands are tied.
Another user, jdub, encountered the same issue:
Tim, Yep me too. I can't cancel either due to the fact that my order is processing. How is that possible considering the phone is delayed?
Other users are having issues cancelling their orders as well.
NoTrouble says that:
After a 30-minute runaround, I received the same answer. Their solution at this point is to refuse delivery.
And yet another user named OrogenousZones spells out his frustration by saying that:
If I have to wait for the dang phone in order to "cancel" my order, then that's really not a cancellation, now, is it?
So what appears to be happening is this. Sprint has processed these orders and is now telling customers that they are going to have to refuse delivery of the device. Problem is, Sprint's language is extremely confusing.
It states, very plainly in its note about cancelling HTC EVO 4G LTE pre-orders, that:
"If you cancelled your backordered item but still received a shipment, please refuse the shipment or call us to process a return within 14 days of receipt."
Only, it seems that Sprint isn't letting anyone put in a cancellation request at all and instead, is forcing customers to refuse the shipment. Customers unfortunately have no idea when that shipment might arrive because as of now, neither HTC nor Sprint have any idea when the device is going to arrive.
HTC is obviously hard at work trying to resolve the patent issues it has with Apple – the cause of the delay, but it's impossible to tell now how long that process might take. That of course leaves customers in limbo.
To be honest, the situation here is pretty tricky and Sprint may be within bounds but we have to say that it's a little suspect that Sprint processed these orders and is now refusing to let paying customers cancel or pick another device.
Have you had problems canceling your HTC EVO 4G LTE pre-order?

This article may contain affiliate links. Click here for more details.