Sprint Rolling Out Galaxy Note II Software Update to Enable Split Screen Multitasking
Oddly, one of the missing features on the current U.S. releases of the Galaxy Note II–the phablet is currently available on Sprint and T-Mobile and will be coming to AT&T and Verizon at later dates this year–is the ability to run two apps side-by-side at the same time. This feature, which is called Multi Window View, was actually not included at launch on the international GSM Galaxy Note II and was only subsequently enabled as a software update after the launch. It looks like Sprint is following suit and is the first U.S. carrier to enable this feature.
With a split screen view giving users the ability to run two apps simultaneously, the 5.5-inch Galaxy Note II with its HD Super AMOLED display becomes more akin to a PC and definitely increases the usefulness potential of the device as customers can do multiple things at the same time. While Android natively allows for multitasking and background processes to continue to operate after a user exits the application, this goes a step further by allowing two applications to run simultaneously. Given the large 5.5-inch display, this should provide enough space for each application to be viewable by the user.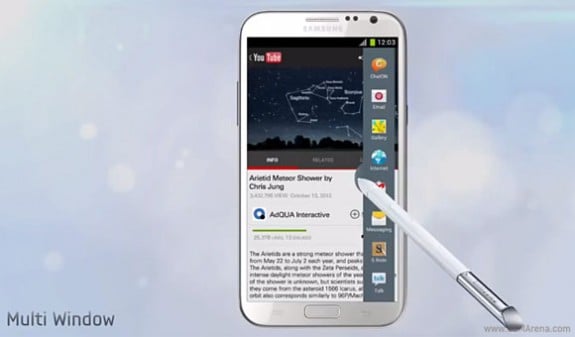 In portrait mode, apps are stacked on top of each other on the display while in landscape mode, apps are displayed side by side.
Sprint says that it may take a few days for the update to reach all users, so be patient if you're a Note II on Sprint's network and haven't seen the update yet.
The Galaxy Note II isn't the first device to provide for this functionality. The Kyocera Echo, also an Android device on Sprint's network, had dual screens with a more limited functionality that allows different apps to run on each screen through a process called Simul-tasking, or simultaneous multitasking.
Additionally, a number of bug fixes and enhancements are also bundled with this software update, according to Sprint.
Hopefully, other carriers will follow Sprint's lead in the U.S. and roll out this software update as well.
We'll definitely provide an in-depth look of this feature once the update hits our Sprint Note II.

As an Amazon Associate I earn from qualifying purchases.