Sprint Selling iPhone 5s for Just $99
Sprint is the first wireless carrier to offer the iPhone 5s at a discount, but there is a catch. The $99 16GB iPhone 5s is only available to new Sprint customers who are transferring a phone number from another wireless carrier. The $100 incentive is available on all other Sprint smartphones, including the iPhone 5c.
While the $100 incentive sure sounds tempting, it's important to remember that he upfront price of an iPhone is only a small fraction of the total cost of owning it. Carrier coverage varies from city to city and block to block. Sprint is still building up its 4G LTE network and has some catching up to do. However, if you live and work in an area with solid Sprint 4G LTE coverage you don't have anything to worry about.
Sprint's indivdual unlimited data plan starts at $80 per-month and comes with both unlimited texts and calling. The company offers a $110 per-month 'All In' plan that includes everything in the more affordable plan plus 5GB of mobile hotspot service. Sprint charges $30 per line for unlimited data on its family plans.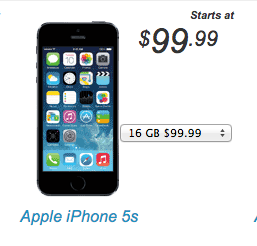 Sprint is the only carrier in the United States to offer the iPhone at subsidized prices and unlimited 4G LTE data plans.  Though T-Mobile advertises unlimited data plans, the carrier does not discount phones, which means the base 16GB iPhone 5s sells for $649 at T-Mobile, though buyers do have the option to spread the payments out over two years.
Sprint is also the only carrier to offer unlimited data for life. T-Mobile is the only other carrier offering any form of unlimited data, but it doesn't have any sort of guarantee that it'll keep truly unlimited data around for any amount of time. Both AT&T and Verizon used to offer unlimited data plans. AT&T nudged its customers onto plans with data caps by limiting services such as FaceTime, capping heavy users and other tactics. Verizon was the first wireless carrier to offer 4G LTE service in the U.S. and offered early adopters unlimited 4G LTE for $30 per month. After a short honeymoon period, Verizon switched over to metered plans. Verizon allowed early adopters to keep their affordable data plans, but it advised them of a stipulation that if they switch to another data plan option they can never have their unlimited data plans back. The only way to keep Verizon's unlimited data plan is for customers to pay full unsubsidized prices for new 4G LTE devices. 

This article may contain affiliate links. Click here for more details.