Sprint Shuts Down Premier Program
In some rather unfortunate news, Sprint has gone ahead and closed the door on the Sprint Premier program and has also announced that Gold customers will not be able to take advantage of an annual upgrade once the end of 2012 rolls around. Sprint Premier services will still be available until the end of 2011 but once the new year arrives, the place will go dark.
Sprint has outlined the reasons why it's doing this and cites unlimited data plans, advanced high-tech devices, a state of the art network, and a focus on providing great customer service as the cause of the Premier program's shutdown.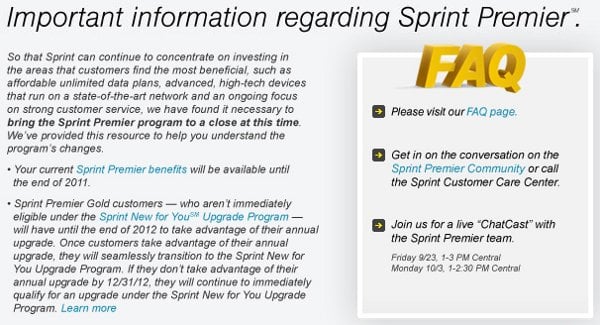 In other words, the company needs to invest its resources elsewhere, say, on the iPhone. Those of you that currently own a Premier account will probably want to check out this FAQ in order to clear up any of the complicated question you might have.
So, enjoy your Gold and Premier memberships while they last because pretty soon, they will have ridden off into the sunset along with Sprint's instant rebates.
Via: Engadget