Sprint Stuns with Lumia 635 Release Date 
Sprint stunned just about everyone today when it revealed a release date for the Lumia 635, Microsoft's low-end Windows Phone that's already available on T-Mobile and AT&T.
Sprint made the announcement in a press release early this morning. The Sprint Lumia 635 release date will come in phases. First there's the Virgin Mobile and Boost Mobile versions arriving on December 23rd, two days before the holiday shopping season comes to a close. It's own post-paid Sprint customers will be able to purchase the Lumia 635 nearly a month later on January 16th.
Colors will be specific to each carrier, despite them all being a part of the Sprint Network. The Boost Mobile Lumia 635 will only come in Cyan while the Virgin Mobile Lumia 635 will come in a simple white. Color is less important for Lumia 635 buyers since the device features interchangeable polycarbonate shells. Sprint says the Lumia 635 on Boost Mobile and Virgin Mobile will cost $99 without a two-year contract and before taxes. It's not ready to share how much the Sprint Lumia 635 will cost users with a two-year contract.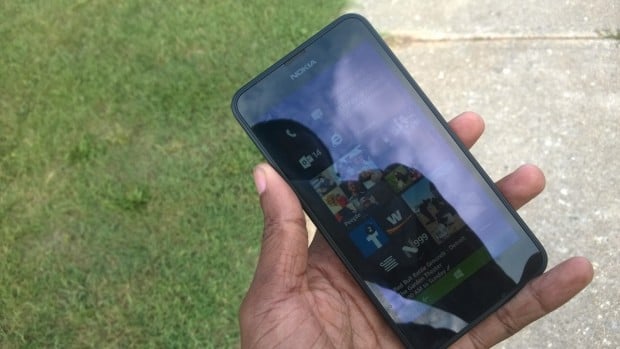 With a Lumia 635 release date set, the stage is set for a small coup. Before last year, Sprint's selection of Windows Phones was non-existent. Last year, the carrier offered the HTC 8XT and the Samsung ATIV S Neo. It dropped both of those devices earlier this year after they reached end-of-life status. At the time, Sprint said it had a replacement on the way.
The Lumia 635 will become the first Nokia Windows Phone to ever be available on Sprint's network. Sprint is using the Lumia 635 to fill a gap in its low-end smartphones space. That makes sense because while capable, the Lumia 635 is in no way a high-end iPhone 6 or Samsung Galaxy S5 competitor. We found out first hand in our Lumia 635 Review.
Instead, the Lumia 635 is a way to snag first-time smartphone buyers and young adults who have needs that aren't too demanding. Behind that interchangeable shell is a removable battery and a microSD card slot for adding more up to 128GB of storage. 8GB of storage is included out of the box.
The front of the device is dominated by a 4.5-inch display. That display is capable but won't fool anyone looking at high-definition video. Inside is a quad-core Snapdragon CPU that's capable and won't grind to a stop when running demanding apps. What will get users in trouble is the 512MB of RAM. There's no front-facing camera or rear-facing flash, but a 5 megapixel rear-facing camera takes decent photos. It supports 4G LTE networks, and is capable of 13 hours of talk-time, two very, very good things.
The Nokia Lumia 635's claim to fame really is its colored shells and sensor core technology. Essentially, Sensor Core lets the Lumia 635 act as a pedometer and workout tracker without taking a big hit in battery life. The Lumia 635 was one of the last devices to be produced by Nokia Devices and Services before Microsoft took them over.
It was also one of the first devices to come with Windows Phone 8.1 natively. Windows Phone 8.1 includes tons of enhancements that put Windows Phone on equal footing with the iPhone or devices running Google's Android operating system. For example, Cortana, the Windows Phone personal assistant, is available on the Lumia 635. There are tons of new customization options related to app storage and the Start Screen too. Microsoft has already confirmed that all current Lumia Windows Phones, like the Lumia 635, will get Windows 10 for phones sometime next year.
Read: Windows Phone 8.1 Review
Presumably, Sprint will have more information to share about the Sprint Lumia 635 price closer to its January 16th release date.