Sprint to Carry 3G LG Windows Phone?
Filings at the FCC may have revealed a potential new 3G smartphone for Sprint running Microsoft's Windows Phone operating system and made by LG/. The LG LS831 model supports CDMA in the EMSR band, which is used exclusively by Sprint in the U.S. market and the phone is accompanied by a document known as the 'Sprint Nextel Waiver,' further indicating that the model is destined for the Now Network if it gets approved and released. Documents at the FCC show images of the device, which bears an LG logo as well as the Windows Phone logo on the rear back battery cover.
The device has not yet been announced by either LG or Sprint. Thus far, Sprint only carries the HTC Arrive, which is also known as the HTC 7 Pro internationally. The device is unique in that it sports a full-sized keyboard.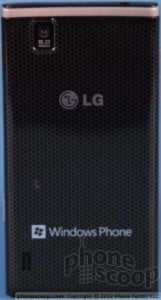 The LG LS831 is expected to sport a front-facing camera and rear-facing 5-megapixel camera, according to Phonescoop. When and if it gets released for Sprint's 3G Now Network, it will be the carrier's second Windows Phone and will likely be a more mid-range offering that will compete against the HTC Radar 4G (T-Mobile), the Nokia Lumia 710 (T-Mobile), and the Samsung Focus Flash (AT&T).
A 3G-only smartphone is curious in a time when AT&T is pushing forward with 4G HSPA+ and 4G LTE while Verizon won't be releasing any 3G-only smartphones moving forward. Verizon's 4G move may pay off as it has the largest LTE footprint and LTE is more efficient with network resources for data in a time of constrained bandwidth issues.
It's unclear when Sprint will begin supporting LTE Windows Phone models once it expands its LTE network footprint. LTE was a big contention between carriers and Microsoft for further Windows Phone support, and at least one of Sprint's rival–Verizon–had made LTE a bargaining chip for more deployment on its network. Nokia says that it specifically designed the LTE-capable Lumia 900 smartphone for the U.S. market with LTE support, a large display (4.3-inch compared to the smaller display on the Lumia 800) and exchewed the flip-out charging port cover.
Though a device may get approved by the FCC, it doesn't mean that a carrier is obligated to release the phone.

As an Amazon Associate I earn from qualifying purchases.