Sprint Tri-Fi Mobile Hotspot to Offer 3G, 4G LTE, and WiMAX Connectivity
Sprint has a new mobile hotspot that will take advantage of its 3G network and both of its 4G networks.
The new Sprint Tri-Fi is a mobile hotspot that uses Sprint's 3G, 4G WiMAX, and upcoming 4G LTE. The mobile hotspot will go on sale on May 18, the same day as the HTC EVO 4G LTE, for $99 on a tw0-year contract after a $50 mail-in rebate.
Plans for the phone start at $34.99 for 3GB a month and go up to $49.99 for 6GB a month and $79.99 for 12GB per month. The plans aren't exactly cheap, but they do offer more data than similarly priced plans on Verizon and AT&T. The two other carriers already have their 4G LTE networks up and running, however.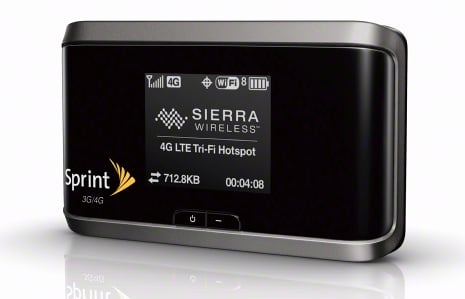 Sprint's plans, on the other hand, to offer slower 4G speeds over WiMAX, but will eventually offer faster 4G LTE speeds. Users that buy the Tri-Fi at launch can use it for 3G and WiMAX data, but aren't left out in the cold when Sprint finally gets its 4G LTE network up and running.
The Tri-Fi uses a 3,600 mAh battery which Sprint claims provides mobile data for to up to eight devices for eight hours at a time, with eight weeks of standby time.
The device also has a microSD card slot so users can use it for networked storage. With a microSD card, users can share up to 32GB of content with anybody else that connects to the mobile hotspot.
With its three mobile data bands, the Tri-Fi seems like the best option for a mobile hotspot on Sprint right now. It's the only device on Sprint's network that uses both WiMAX and 4G LTE.
Recent phones like the Sprint Galaxy Nexus and the EVO 4G LTE only use 3G until Sprint rolls out its 4G LTE network.