Sprint Unveils Overdrive 3G/4G Mobile Hotspot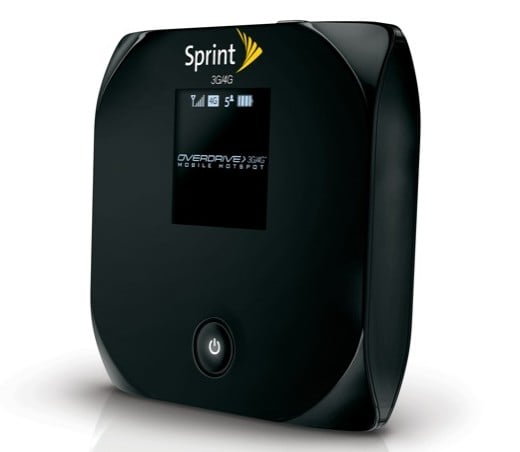 We all know how much those of us on the GBM Team love the MiFi card from Novatel that both Sprint and Verizon carry. It allows for multiple connections when the service is available and makes mobile computing possible, again when service is available. (From the looks of this GBM video Verizon is doing better in Vegas at CES2010 than Sprint is.)
That said, Sprint is unveiling what looks like the next generation of the MiFi card, this one from Sierra Wireless, called the Overdrive. The difference? The Overdrive allows you to connect to a WiMAX network (4G) and when one isn't available it will drop back to 3G connectivity. Of course that depends on WiMAX being available, which it isn't in most locations at the moment.
In any event, this looks like another mobile winner, again assuming WiMAX rolls out to a larger degree. So, my advice to Xavier is for him to put in some orders for the team on this one. There's a press release after the jump.
On another note, isn't the perfect device for Sprint (which could use some good PR right about now) to offer up to existing MiFi card users without requiring a new contract?
Overdrive(TM) 3G/4G Mobile Hotspot by Sierra Wireless Can Bring Sprint's 4G Speeds to More Than 400 Million Wi-Fi-Enabled Devices
Available Jan. 10 exclusively from Sprint, Overdrive is the nation's first 3G/4G MobileHotspot, allowing multiple Wi-Fi-enabled devices to share a connection to Sprint's 4G network
OVERLAND PARK, Kan., Jan 06, 2010 (BUSINESS WIRE) — Sprint (NYSE:S) announced today the upcoming availability of Overdrive(TM) 3G/4G Mobile Hotspot by Sierra Wireless. Overdrive allows you to connect up to five Wi-Fi-enabled devices simultaneously–including laptops, gaming devices, cameras and even smartphones from other carriers–through a single connection (via Wi-Fi), to a network that is up to 10 times faster than today's 3G speeds from any national wireless carrier.1 There's no need to wait for 4G devices to enjoy the benefits of 4G: Overdrive creates a connection between the Sprint 4G network and virtually all of the hundreds of millions of Wi-Fi-enabled electronics devices owned by or available to customers today.
"This device delivers the connected lifestyle to our customers in overdrive," said Dan Hesse, Sprint CEO. "The fact that it connects up to five Wi-Fi-enabled devices is especially meaningful because at 4G speeds, customers can download and upload more data–gigabytes, not megabytes–in a matter of seconds. The Overdrive on the 4G network is made for the multitude of bandwidth-hungry applications customers want to access wirelessly, like video streaming. 4G beats 3G for speed and for value."
Overdrive 3G/4G Mobile Hotspot will benefit customers today
In the home:
Through a single connection, you can bypass your cable provider and stream HD movies from content distribution providers (such as Netflix, Amazon and Blockbuster) right to your TV; connect your Xbox 360 and game real-time with someone located across the globe; move pictures wirelessly from your camera to a digital picture frame and surf the Web on your laptop while streaming Pandora.
In the dorm:
Connect virtually anywhere on a campus with 4G coverage at 4G speeds: Turn your iPod Touch with Skype into a voice phone and make a call, or stream a live movie from Hulu or Netflix to your laptop.
On-the-go:
Whether you're on a long trip or running a busy day of errands, use Overdrive to keep passengers entertained in the car.2 Stream your favorite TV show from Hulu to your Netbook; use a PSP gaming device to access multiple games and content; download music to your Zune HD; and turn your 3G iPhone into a 4G device. It's all very simple with Overdrive.
Mobile office:
Join a video conference, download large files, conduct a virtual home tour and stay in constant contact with your office via unified communications.
Move Overdrive 3G/4G Mobile Hotspot to the workplace and the benefits are even greater with enhanced Wi-Fi performance, increased productivity and improved cost savings. Set up and redeploy easily and quickly for a small workgroup; back-up or replace costly wireline connections to small branches, retail locations or home offices; cost-effectively share one connection on one plan when mobile with other employees and customers; use as excellent "power up and go" mobile solution to maintain connectivity for business/emergency continuity; and easily perform multiple functions with constant connectivity and real-time access to corporate data.
"At Best Buy, we see an amazing amount of new devices and products from mobile phones to televisions to gaming consoles that are designed to connect and interact with each other. This kind of connectivity is very exciting, but it can also be complicated to maximize unless you actually see it and understand it," said Brian Dunn, Best Buy CEO. "In combination with Best Buy's skilled and passionate associates, the Sprint Overdrive will allow us to showcase our in-store experience by demonstrating how various Wi-Fi- enabled products work and connect together, whether in the home, on-the-go or both."
As the first dual-mode device of its kind, Overdrive 3G/4G Mobile Hotspot can be used on both the Sprint 4G network and Sprint's Mobile Broadband Network, America's most dependable 3G network.3 This flexibility allows customers to enjoy 4G performance in any Sprint 4G market or to use Sprint's reliable 3G mobile broadband network when outside a 4G area. Sprint 4G is already available in 27 markets and continues to expand to new cities, bringing wireless speeds up to 10 times faster than today's 3G from any other national wireless carrier.
"Sierra Wireless places a high priority on making our products simple to use, and we have put considerable time and effort into ensuring that Overdrive3G/4G Mobile Hotspotdelivers the easiest user experience of any mobile hotspot on the market," said Jason Cohenour, CEO of Sierra Wireless. "Its simplicity, combined with its compact portability, and security, makes Overdrive3G/4G Mobile Hotspotideal for both personal and business use in a variety of situations."
Key features of Overdrive 3G/4G Mobile Hotspot include a LCD that provides important information such as battery life and internet connection status, as well as an easy-to-use web interface for customizing settings. Overdrive 3G/4G Mobile Hotspot also includes built-in GPS capability (on 3G), MicroSD slot for up to 16 GB memory cards creating shared storage with up to five connected devices, and an extended Wi-Fi range of up to 150 feet.
Beginning on Jan. 10, customers will be able to purchase Overdrive 3G/4G Mobile Hotspot exclusively from Sprint for $99.99 (excluding taxes) after a $50 mail-in-rebate with a two-year service agreement. Customers can purchase the device and sign up for 3G/4G plans at select Sprint retail stores and select Best Buy stores; available through business sales, Web (www.sprint.com) and Telesales (1-800-SPRINT1) in coming weeks. Also beginning Jan. 10, Sprint will offer simplified 3G/4G data plans for consumers and businesses at $59.99 monthly (price plans exclude surcharges and taxes).4
Sprint continues to blaze trails with 4G
Sprint is the first national wireless carrier to test, launch and market 4G technology. (View 4G coverage at www.sprint.com/4G)
Sprint made history by launching 4G in Baltimore in September 2008. Sprint currently offers 4G service in 27 markets, including Atlanta, Baltimore, Chicago, Dallas/Ft. Worth, Las Vegas, Philadelphia, Portland, Ore., San Antonio and Seattle. Sprint 4G is also offered in Abilene, Texas; Amarillo, Texas; Austin, Texas; Bellingham, Wash.; Boise, Idaho; Charlotte, N.C.; Corpus Christi, Texas; Greensboro, N.C. (along with High Point and Winston-Salem); Honolulu; Killeen/Temple, Texas; Lubbock, Texas; Maui, Hawaii; Midland/Odessa, Texas; Milledgeville, Ga.; Raleigh, N.C. (along with Cary, Chapel Hill and Durham); Salem, Ore.; Waco, Texas and Wichita Falls, Texas.
In 2010, Sprint expects to launch service in multiple markets, including Boston, Houston, New York, San Francisco and Washington, D.C.
Sprint is harnessing the power of 4G as the majority shareholder of Clearwire, the independent company that is building the WiMAX network.
About Sprint Nextel
Sprint Nextel offers a comprehensive range of wireless and wireline communications services bringing the freedom of mobility to consumers, businesses and government users. Sprint Nextel is widely recognized for developing, engineering and deploying innovative technologies, including two wireless networks serving more than 48 million customers at the end of the third quarter of 2009 and the first and only 4G service from a national carrier in the United States; industry-leading mobile data services; instant national and international push-to-talk capabilities; and a global Tier 1 Internet backbone. The company's customer-focused strategy has led to improved first call resolution and customer care satisfaction scores. For more information, visit www.sprint.com.
For images, visit the Image Gallery in Sprint's Newsroom site – www.sprint.com/newsroom.
1 "Up to 10x faster" based on download speed comparison of 3G's 600 kbps vs. 4G's 6 Mbps. Typical published 3G avg. speeds (600 kbps-1.7 Mbps); 4G avg. speeds (3-6 Mbps). Actual speeds may vary. 4G currently available in select areas /devices; check Sprint.com/4G for Sprint 4G coverage/device info.
2 Sprint encourages all wireless users to drive responsibly and avoid distractions.
3 "Dependable" based on independent, third-party drive tests for 3G data connection success, session reliability, and signal strength for the top 50 most populous US markets (including PR) from January 2008 to August 2009. Not all services available on 3G and coverage may default to separate network when 3G unavailable.
4 Sprint reserves the right, at our sole discretion to deny, terminate, modify, disconnect or suspend service if customer exceeds the off-network roaming threshold (300MB/mo.) or engages in the following prohibited uses: server devices or host computer applications, including, but not limited to, disproportionate Web camera posts or broadcasts, automatic data feeds, automated machine-to-machine connections, peer-to-peer (P2P) file-sharing applications broadcast to multiple servers or recipients such that they could enable "bots" or similar routines, or for any other reason that, in our sole discretion harms our network.