Sprint ZTE Peel Turns iPod Touch Into Smallest Mobile Broadband-Equipped Tablet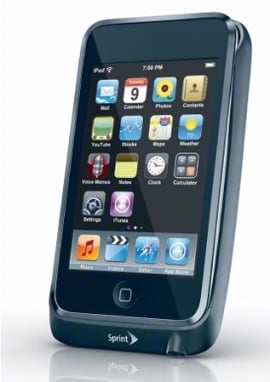 We had reported about the ZTE Peel case before, which is a hard-case that adds mobile broadband and gives the iPod Touch a data connection to Sprint's Now Network, and it looks like Sprint has finally come clean and announced that the device will be coming on November 14th.
Beginning on Nov. 14, Sprint (NYSE: S) customers can attach ZTE PEEL™ to their Apple iPod touch and connect to Sprint's 3G network. ZTE PEEL is a unique device that cradles the second- and third-generation iPod touch with a case-like form factor. With universal Wi-Fi compatibility and support for up to two Wi-Fi enabled devices, iPod touch users will have a virtually anywhere, anytime Internet connection that removes the reliance on a Wi-Fi hotspot for a data connection. Customers simply slide their iPod touch (touch-screen face out) into ZTE PEEL, press down on both sides until it clicks into place, and then press the power button located on the back of ZTE PEEL to connect to Sprint's 3G network.
The ZTE Peel presents an interesting proposition for those who don't need phone functionality, would rather not be tied to a two-year contract for an iPhone even for data, and don't want to use AT&T's network in the U.S. for whatever reason. However, the Peel's data plan may seem a bit expensive if you're a heavier data user as you would only get 1 GB of 3G data per month (month to month plan and no contract is needed) for $30; AT&T offers 2 GB of data for $25, but you do need to sign up for a voice plan as well. For a quick check of email and a little bit of Twitter, Facebook, and a few YouTube videos a month, the Peel may be good for users who occasionally are not in a WiFi area and still need data access.
Given the somewhat expensive pricing of the data plan, Sprint may just have offered one of the most portable tablet companions sans voice. "ZTE PEEL unlocks the wonderful user interface and Web experience of Apple's popular iPod touch and transforms it into a powerful mobile device using the Sprint 3G network," said Fared Adib, vice president-Product Development. "When combined with Sprint's 3G network, ZTE PEEL turns an iPod touch from a portable device limited by the availability of Wi-Fi to a mobility tool free to browse the Web and use applications anytime, anywhere while on Sprint's 3G network." With tablets now ranging between 5 to 10 inches in size, the 3.5-inch iPod Touch, with the ZTE Peel, may be the most portable tablet that gets its own mobile broadband data.
The slim ZTE Peel will retail for $80 when it launches. That said, as much as I love Sprint's coverage in my area, I can't see the value proposition of carrying around a regular phone, an iPod Touch, and a Peel. At that rate, why not opt for one of Sprint's many compelling Android offerings–the carrier has the high-end market with the EVO 4G and Samsung Epic 4G, as well as the lower end market with the Samsung Transform, the Intercept, the Optimus S, and Sanyo Zio–all of which can replicate many of the features or functions of iOS on the iPod Touch and allow for convergence between voice, PDA, and data.