Sprint's Novatel Mifi 3G/4G Hotspot Goes Official
As was previously leaked, Sprint has unveiled its MiFi 3G/4G personal hotspot router, which allows up to 5 devices to share the device's Sprint Now Network mobile broadband connection over WiFi in a router device that's about the size of a credit card. The device will allow laptops, tablets, gaming devices, and other WiFi-connected device to use Sprint's 3G EVDO or 4G WiMax connection. The MiFi 3G/4G Hotspot for Sprint will also utilize the MiFi OS, an OS that debuted with the GSM edition of the original MiFi, that will allow widgets and applications to be loaded. A micro SDHC card slot will also support cards up to 32 GB for file sharing.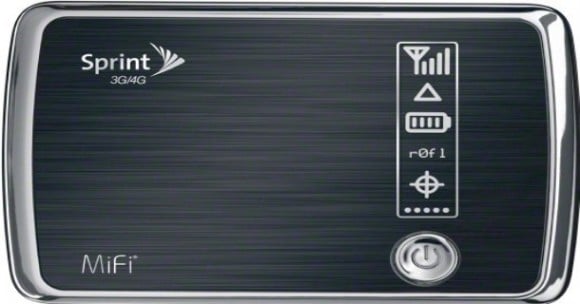 There's also an external display for viewing battery and network status.
Here are some features of the MiFi 3G/4G:
3G EV-DO Rev. A and WiMAX capable
10mm x 35mm eInk display with status indicators for battery, signal and number of connected devices
Location based services: GPSOne, xTRA, stand-alone GPS
Browser user interface for configuration
MicroSD slot for up to 32GB memory card
Supports Windows, Macintosh and Linux operating systems
Datalink 3G/4G
No software required for Wi-Fi connection
Battery: 1500mAh – four hours of usage; 60 hours of standby time
4G data speeds (WiMAX) – Peak download speeds of more than 10 Mbps; average download speeds of 3-6 Mbps
3G data speeds (EV-DO Rev. A) – Peak download speeds of up to 3.1 Mbps; peak upload speeds of 1.8 Mbps; average download speeds of 600 kbps-1.4 Mbps.

As an Amazon Associate I earn from qualifying purchases.