Sprint's Rumored Photon Q 4G LTE Captured on Camera
It looks like we're beginning to see what Sprint's much-rumored Photon 4G successor will look like. The Motorola Photon Q 4G LTE is beginning to appear in some candid photos, revealing a form factor with a landscape-oriented QWERTY keyboard slider, a large capacitive touchscreen with Ice Cream Sandwich navigation buttons moved to the insider of the screen in a manner similar to Motorola's implementation of Android 4.0 on the rumored Verizon Droid RAZR HD, and also angular corners that's born from the Photon 4G heritage.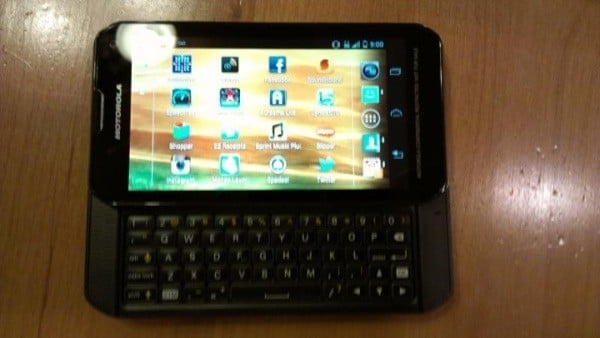 In the past, there were speculations that the Photon Q 4G LTE smartphone would have a portrait-oriented front-facing keyboard, similar to BlackBerry smartphones and harkening back to Motorola's Moto Q smartphone during the Windows Mobile era. However, it's beginning to look like Motorola may be using a design that's similar to the company's Droid line on Verizon, with the Droid, Droid 2, Droid 3, and Droid 4 sharing the landscape-oriented slider.
The photo was posted on the Android Central forums, and according to the person who posted the image, the design may not be fully finalized at this time, but it should be close.
Not many specs were revealed as part of the leaked photo. It looks like this may be a high-end keyboarded slider for Sprint's 4G LTE network. When the company launched the Epic 4G Touch, a second-generation model to the original Epic 4G by Samsung, that device did away with the keyboard leaving many high-end users without a device that offered a hardware keyboard. Now, it looks like Sprint will have something to succeed the original Epic 4G.