Sprint's Sizzling Summer 4G Trio: Samsung Within (Galaxy S II), HTC EVO 3D, Motorola Photon 4G
After massive smartphone launches from Verizon Wireless and T-Mobile recently, Sprint's about to join its rivals in welcoming some hot summer smartphones this summer. Grads, dads, and back-to-school folks may want to take a look at Sprint's three hottest announced and unannounced high-end Android handsets this summer. That lineup includes a variant of the Samsung Galaxy S II, the announced HTC EVO 3D, and the upcoming Motorola Photon 4G.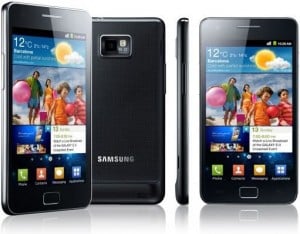 1. Samsung Galaxy S II: Yes, the international Galaxy S II (unannounced) will make a triumphant debut on Sprint with its stunning Super AMOLED Plus display, albeit at the traditional WVGA resolution. With the first Galaxy S, Sprint re-branded the handset as the Epic 4G and added some finishing touches to its partnership with Samsung, equipping its model with front- and rear-facing cameras, rear LED flash, 4G WiMax support, and also a sliding QWERTY keyboard. Whether Sprint continues to stand out of the pack with its own Galaxy S II variant this year is unknown, but at least we now are hearing rumors that Sprint's second-generation Galaxy smartphone will be called the Samsung Within. Estimated time of arrival? Sometime in late July so hold on to your seats. The Galaxy S II may also land on other carriers as well, but Sprint's the only one to give you truly unlimited 4G sans data caps, sans throttling. Pricing for the handset may be $350 before mail-in-rebate, but hopefully it will inch down closer to $300 to remain competitive. (via AndroidSPIN)
https://youtu.be/4n2Kp4ekWNs
2. HTC EVO 3D: Life is in in 3D, so why shouldn't your smartphone be as well? Come this summer in a few short days, Sprint's launching its first 3D smartphone that's not only capable of displaying content–including videos, movies, and games–in 3D, but also give users the ability to record their life in 3D via the dual-rear cameras that can snap 3D pictures at 5 megapixels or record 720p HD 3D videos. If you're square, or rather flat, you can choose a 2D lifestyle as well and the beautiful high resolution qHD display–which appeared better than the Atrix's qHD last I saw the device at CTIA–will give you clarity when you surf the Internet, view photos, or share yourself in a video chat with family thanks to the front-facing camera. If you're recording 2D videos, the resolution is also increased to 1080p so you can catch life in all its glory. Backed by a dual-core 1.2 GHz Snapdragon CPU, the latest iteration of HTC Sense, and Android 2.3 Gingerbread, you're running a powerful smartphone.
3. Motorola Photon: The Motorola Photon (unannounced) may be Sprint's 4G version of rival carrier Verizon's Motorola Droid X2. Little is known about the handset, but we'll definitely know more on June 9th if the device gets its proper debut in New York City. CEOs from both Sprint and Motorola are expected so it should be a big showing for Motorola. The handset-maker has so far been slow to gain traction on Sprint's network, having only launched the Motorola i1 for Sprint Nextel's iDEN network as a rugged Android phone, but Motorola is getting more aggressive. In addition to the Photon, we're going to see 3G keyboarded phones like the Motorola Titanium and the Motorola XPRT, pronounced 'expert,' launching soon as well.

As an Amazon Associate I earn from qualifying purchases.